POST-GAME COVERAGE
Seventeen second half points from Marcus Derrickson was not enough as 25 turnovers doomed the Georgetown Hoyas in a 74-65 loss at Marquette Saturday. The Warriors (10-4) were led by a career high 35 points from 5-11 guard Andrew Rowsey. The Hoyas closed a 15 point gap to seven in the final minute but coughed up two turnovers in consecutive series which put the game away for Marquette.

Both teams struggled to open the game. Georgetown missed seven of its first nine attempts, with four turnovers in the firs eight minutes of action. Following an effort versus Xavier where the Warriors hit 18 threes, it did not get a single such basket for the first 10 minutes of the half, as Rowsey was 0-5 from the field. Rowsey's first three of the half was his only three of the half, and the Hoyas were within three midway in the half when it gave up turnovers on three of its next four possessions. Freshmen Jamal Cain scored eight of the team's next 10 points in pushing the lead to 25-14, before the Hoyas answered with an 8-1 run to get within four, 26-22. Four more turnovers soon followed, and four was as close as GU would get before halftime, where Georgetown trailed for the first time all season at the break, 34-27. Georgetown managed just seven field goals and 14 first half turnovers.

The second half opened with a Georgetown turnover 16 seconds into play, but the Hoyas were playing better and, just as importantly, they were keeping Marquette away from the three pointer. Baskets by Kaleb Johnson, Derrickson and Govan closed the Warriors' lead to 37-33 at the 17:26 mark, but three turnovers in its next four possessions did not allow GU any momentum to overcome the score.

Having not taken a three point attempt since the 10:12 mark of the first half, Andrew Rowsey got open and with it, the Warriors took off. In three possessions over the next 1:36, Rowsey connected on three three pointers, blowing open a 13 point lead. Markus Howard, who had been struggling all afternoon, picked up back to back threes at the halfway point of the half, and the Warriors were now up 15, 56-41. With the Warriors' offense sputtering, Rowsey was the go-to man, and Georgetown simply could not stop him. Rowsey scored nine of the Warriors next 10, cleaning up at the free throw line and sending a long three into the nets at the 6:35 mark to put Marquette up 16, 65-49. With little success going back inside to Govan and even less from its sloppy guard play, Marcus Derrickson took over and the Hoyas suddenly found new life.

Derrickson scored 11 of the Hoyas next 13 points, opening with a four point play off a three pointer and foul, a jumper at the 6:55 mark to close to 62-49, and back to back baskets at the 4:25 mark to narrow the score to nine, 67-58. A missed layup by center Matt Heldt returned the ball to the Hoyas with four minutes to play, but GU could get no closer after a Mulmore turnover. Both team missed from outside, trading a pair of free throws into the final two minutes, 69-60. On GU's next series, Pickett got open and despite not having taken a shot on over ten minutes of play, hit a three that brought the Hoyas to within six, 69-63. Howard could not answer the bell for MU but Rowsey did it once again, hitting an off-balance three to go up nine and end the rally. GU turned the ball over on two of its final three possessions, finishing with four turnovers in the final 5:14, 11 in the second half and 25 overall.

Derrickson led all Georgetown scorers with 20 points, 17 in the second half. Jessie Govan finished with 11 points, but was largely shut down after halftime, with just four points after the break. Guards Jonathan Mulmore (3 points, 5 turnovers), Kaleb Johnson (12 points, 4 turnovers), Jagan Mosely (8 points, 2 turnovers) and Trey Dickerson (no points, three turnovers in eight minutes) had as many giveaways as the entire Marquette team, contributing to 20 points off turnovers for MU. And in a game which was Georgetown's for the taking, its inability for its guards to stay with Rowsey was painfully evident in the following unusual statistic:


The Georgetown defense must simply get better and soon. Its guards have given up back to back games of an opponent scoring 30 or more points, a number unprecedented in the Hoyas' Big East annals, and have allowed 46 turnovers in two games contributing to 42 points, or 26 percent of all points allowed to date in Big East play. Similarly, GU has been unable to use its quickness in steals, where it is a net of -8 in two games this season.
Next up: a road game at DePaul, where the Blue Demons nearly upset #5 Xavier on the road, 77-72. If the lessons of Saturday's game are not taken into account Tuesday, the Hoyas are in for another unnecessary defeat.
Here's the Georgetown half of the box score:

            MIN   2FG   3FG   FT  REB  A  PF  PTS
Starters:
Mulmore      23   0-1   0-1   3-4   4   0  3    3
Pickett      33   1-1   2-6   1-2   0   4  1    9
Johnson      31   5-7   0-1   2-3   4   4  3   12
Derrickson   32   3-6   3-6   5-6   8   2  2   20
Govan        32   3-8   0-1   5-5  12   1  2   11
Reserves:
Blair         9   0-1   0-0   0-0   1   1  1    0
Mosely       29   3-6   0-1   2-2   3   1  3    8
Walker        3   1-1   0-0   0-0   1   0  2    2
Dickerson     8   0-1   0-0   0-0   0   0  1    0
Team Rebounds                       5
DNP: Hines, Muresan, Mourning
TOTALS      200  16-32  5-16 18-22 38  13 18   65

Andrew Rowsey's 35 points against the Hoyas ranks third all-time in opponent scoring in a single game. Here are the ten highest among Big East opponents:
| | | |
| --- | --- | --- |
| | Player | No. |
| 1. | Marshon Brooks, Providence, 2/5/2011 | 43 |
| 2. | Matt Carroll, Notre Dame, 2/1/2003 | 36 |
| 3. | Johnny Hemsley, Miami, 12/30/1998 | 35 |
| 3. | Marcus Foster, Creighton, 2/19/2017 | 35 |
| 3. | Andrew Rowsey, Marquette, 12/30/2017 | 35 |
| 6. | Harold Pressley, Villanova, 2/15/1986 | 34 |
| 6. | Mark Jackson, St. John's, 2/2/1987 | 34 |
| 6. | Malcolm Huckaby, Boston College, 2/1/1992 | 34 |
| 6. | Marcus Hatten, St. John's, 1/18/2003 | 34 |
| 10. | Chris Mullin, St. John's, 2/21/1984 | 33 |
A Kelan Martin jumper with 2.6 seconds remaining sent Butler University to a 91-89 win over Georgetown in double overtime Wednesday at Capital One Arena. The Hoyas lost a 20 point lead as the Bulldogs rallied to take the game into two overtimes.

"It's a game we should have won," said Georgetown coach Patrick Ewing, whose two losses this season involved losing big leads and falling in overtime. "We can't keep giving games away."

The 91-89 defeat, marking the sixth consecutive overtime loss at Capital One Arena in three years, was also the third consecutive OT loss at home to Butler in as many games. One would have been hard-pressed to be imagining anything resembling overtime in how this game opened, however.

Georgetown got off to an early lead and never let up in one of the Hoyas' best first halves of the season. Six straight points by Marcus Derrickson earned an early 6-2 lead, while three pointers from Jamarko Pickett and Jagen Mosely put the Hoyas up eight, 17-9. Butler was ineffective inside and horrible from outside, missing ten straight attempts from three in the first half.

The Hoyas picked up steam throughout the first twnty minutes. Consecutive free throws by Mosely and Jahvon Blair pushed the lead to 10 midway through the first half, part of a 12-2 Georgetown run that extended the margin to 15 with seven minutes to halftime, 29-14. Shooting just 32 percent from the floor, the Bulldogs simply could not keep up with the Hoyas, falling behind by 15 at the 5:00 mark, then by 18 on a Derrickson three with 2:53 remaining, 38-20. A driving basket by Blair at the 2:35 mark put the Hoyas up 20, 42-22, powered by 19 points from the GU bench compared to none for Butler. A late basket by Sean McDermott, who would return later in the game for a repeat performance, closed the margin to 42-24 at the half.

Butler adjusted its defense in the second half, favoring an unusual 3-2 zone which kept Govan out of reach for GU's guards. As Georgetown struggled to begin the second half (three turnovers in its first four possessions), the Bulldogs caught a second wind. GW transfer Paul Jorgensen scored seven points in 47 seconds--his only points of the game-- to quickly close to 44-33 with just under 18 minutes remaining. Georgetown answered with a Jamarko Pickett three, 47-33, but the Bulldogs would not be going away.

The lead hovered at 11 through the midway point of the second half, where Butler baskets would be matched by Georgetown's trips to the foul line. Georgetown led by as many as 13 following a Derrickson three pointer at the 9:35 mark, but guard Kamar Baldwin began to heat up. Baldwin scored eight of Butler's next eleven points, closing the once 20 point lead to four, 64-60, with under six minutes to play. BU narrowed the lead to just two before a Jonathan Mulmore three rallied the home crowd and extended the GU lead to five at the 4:14 mark, 69-64. Baldwin answered the bell once again, 69-66.

The team exchanged free throws into the final three minutes, but a pair of three point misses by Kaleb Johnson and Jahvon Blair opened the door a little wider for the Bulldogs. Off a missed three by Blair, Kelan Martin drove the lane to close to one, 70-69. After Blair missed a layup on the next series, Martin took a short jumper to give Butler its first lead of the game, 71-70. Blair went out wide yet again, but upon his missed three, he fed Derrickson from outside, sending the 9,257 in attendance to its feet with GU retaking the lead, 73-71.

Entering the final minute of regulation, GU held Martin at bay, but gave up a rebound inside to Jorgensen and the subsequent pass to Martin resulted in free throws which tied the game at 73. Holding for one last shot, Mulmore swung the ball inside to Govan for a basket, 75-73, with six seconds remaining. Baldwin raced down the court and his shot was off, but no one boxed out McDermott, whose dramatic tip-in with under a second left tied the score and sent the Hoyas heading into yet another overtime thriller.


The overtime period began with peril for the Hoyas, as Georgetown missed three consecutive shots under the basket until a Jonathan Mulmore jumper put the Hoyas ahead, 77-75. Following a basket by Martin, the Hoyas went inside to Govan for a dunk with 2:27 to play, 79-77, then found Derrickson inside for a basket and a foul. Derrickson's only missed free throw of the night came on that play, keeping the Bulldogs within range at 81-77. Butler answered with inside baskets on each of its next two possessions to tie the score at 81.
With no answers outside, Georgetown went back inside to Govan, who picked up two at the foul line, 83-81, with 40 seconds remaining. On the ensuing play, Martin's shot fell short but McDermott burned the Hoyas yet again, picking up an offensive rebound and a foul, connecting on two from the line to tie the score at 83. Holding for the last shot, an awkward sequence of ball handling by Mulmore failed to get the ball inside, and with 2.1 seconds left, Blair got the ball and promptly traveled.
Butler's last moment try was broken up under the basket, and an alert call of a GU timeout with under a second left provided slight hopes. Jessie Govan launched a 40 footer that was on target but just short, sending the game into a second overtime.
The second overtime also had its moments. Georgetown's only field goal of the fourth period came on a Kaleb Johnson putback as the shot clock wound to zero, 85-83, but GU's defense saw Baldwin weave inside for the tying basket, 85-all. A long miss from Pickett was matched with a shot clock violation from the Bulldogs, and the Hoyas regained momentum with under three minutes to play. This proved fleeting, as a wild sequence of consecutive misses by Johnson, Mulmore and Govan were for naught, and Baldwin drove past the Hoya defense yet again to post Butler's first lead in extra time, 87-85, with 1:59 to play.
A pair of Derrickson free throws tied the score on the next possession, 87-87. Baldwin's next sortie fell short, and two more free throws from Govan earned the G-men a two point lead, 89-87, with 1:09 left.
Late game turnovers stung Georgetown yet again. After Martin tied the score at with 50 seconds remaining, Pickett lost the ball out of bounds, Georgetown's 21st turnover of the game. Holding for the last shot, the Bulldogs found little inside but with Kelan Martin, they didn't need much. Martin spun around Derrickson and Govan for an eight footer to take the lead with 2.6 seconds remaining. Off the time out, Georgetown did not go long, and its short inbounds pass was broken up to end the game.
From a 32 percent shooting effort at halftime, the Bulldogs shot 64 percent in the second and ended the game shooting 47 percent, despite a woeful 3 for 21 from three point range, a startling number considering Butler's 18 threes against Western Illinois last week. Martin and Baldwin combined to shoot 22 for 41 for 58 points--along with Tyler Wideman, these three Bulldogs accounted for 73 of the 91 points scored by the team. Baldwin's 31 points narrowly missed the top 10 of single game scoring by a Georgetown opponent in Big East play.
Georgetown got 23 points from Derrickson, 19 from Govan and questions marks for most of the rest of the team. Jahvon Blair ended with 17 points, but 12 came from the foul line as Blair otherwise shot 3 for 11, 0 of 4 from three point range, and had four critical turnovers after halftime. A pair of late baskets by Jonathan Mulmore brightened an otherwise checkered stat sheet, with his four turnovers, four fouls, and continued weak defense amidst Butler's resurgent backcourt.
The Big East opener was unforgiving. Kaleb Johnson managed one field goal in 31 minutes. Jamarko Pickett continued his late game mirages, scoring nine points overall but without a point in the last 27 minutes of the game. The Hoyas shot just 36 percent in the second half and a meager 4 for 14 (28 percent) in the two OT periods. Butler scored a remarkable 50 points in the paint against the Hoyas' defense.
If there was one statistic which should give Ewing pause, well, there is one: turnovers. Butler committed four turnovers after halftime, Georgetown 12.
Georgetown goes on the road for four of its next five in Big East play, facing Marquette on Saturday. The Warriors (9-4) fell 91-87 to #5 Xavier despite shooting 15 of 38 from three point range. Guard Andrew Rowsey led the Warriors with 31 points, and given the ways guards have carved up the Hoyas of late, it must a point of emphasis in the remaining practice time Ewing has to work with.
"The two losses exemplify the flaws in Patrick Ewing's bizarre scheduling strategy," wrote Jeff Isenberg at Yahoo Sports. "Maybe Georgetown would have been more comfortable down the stretch against quality opponents if the Hoyas hadn't played the nation's 351st strongest non-conference schedule, one riddled with games against the likes of Maryland Eastern Shore, Maine, Coppin State, Alabama A&M and North Carolina A&T. The best team Georgetown has beaten this season is six-loss North Texas. The second-best Hoyas win came against a Richmond team that's 2-10."
"Could Georgetown have faced a tougher schedule? Sure," wrote columnist Patrick Stevens. "Was it wise to exit the PK80? Probably not. Did playing those 11 games provide a fair preview of Big East play? That's an unquestioned no."
Or as
ESPN.com
put it, "Last year's Georgetown squad finished 14-18 under head coach John Thompson III. The returning players on the current roster did not just need more wins. They needed more fights."
They've got them now.
The Georgetown half of the box score:


            MIN   2FG   3FG   FT  REB  A  PF  PTS
Starters:
Mulmore      35   1-2   1-2   3-4   2   5  4    8
Pickett      31   1-2   2-7   1-1   2   0  2    9
Johnson      31   1-3   0-2   0-2   5   1  4    2
Derrickson   43   5-6   3-4   4-5  11   2  2   23 
Govan        43   6-15  0-1   7-8  13   1  3   19
Reserves:
Blair        26   3-7   0-4  11-12  2   3  2   17
Mosely       20   2-3   1-1   0-1   5   1  1    7
Walker        6   1-2   0-0   0-0   0   0  0    2
Dickerson    15   0-3   0-1   2-2   1   3  2    2
Team Rebounds                       4
DNP: Hines, Muresan, Mourning
TOTALS      250  20-43  7-22 28-35 45  16 20   89

Wednesday's loss to Butler marked the sixth consecutive loss in overtime for the Hoyas, all at home. Since 2012, Georgetown is 4-11 in overtime games:
| | | | | | | | |
| --- | --- | --- | --- | --- | --- | --- | --- |
| 2/8/2012 | L | 64-61 | OT | at | Syracuse | Syracuse, NY | Carrier Dome |
| 3/8/2012 | L | 72-70 | 2OT | vs | Cincinnati | New York, NY | Madison Sq. Garden |
| 11/20/2012 | L | 82-72 | OT | vs | Indiana | Brooklyn, NY | Barclays Center |
| 2/27/2013 | W | 79-78 | 2OT | at | Connecticut | Storrs, CT | Gampel Pavilion |
| 3/15/2013 | L | 58-55 | OT | vs | Syracuse | New York, NY | Madison Sq. Garden |
| 11/26/2014 | W | 66-65 | OT | vs | Florida | Nassau, Bahamas | Imperial Arena |
| 12/27/2014 | W | 91-98 | OT | vs | Indiana | New York, NY | Madison Sq. Garden |
| 1/10/2015 | L | 60-57 | OT | at | Providence | Providence, RI | Dunkin' Donuts Ctr. |
| 1/24/2015 | W | 95-85 | OT | at | Marquette | Milwaukee, WI | Bradley Center |
| 11/14/2015 | L | 82-80 | 2OT | | Radford | Washington, DC | Verizon Center |
| 2/27/2016 | L | 90-87 | OT | | Butler | Washington, DC | Verizon Center |
| 1/7/2017 | L | 85-76 | OT | | Butler | Washington, DC | Verizon Center |
| 2/4/2017 | L | 68-66 | OT | | Seton Hall | Washington, DC | Verizon Center |
| 12/16/2017 | L | 86-79 | OT | | Syracuse | Washington, DC | Capital One Arena |
| 12/28/2017 | L | 91-89 | 2OT | | Butler | Washington, DC | Capital One Arena |
Below are the Big East attendance averages through Dec. 28:


| | | |
| --- | --- | --- |
| Team | Games | Avg. Attendance |
| Creighton | 8 | 15,921 |
| Marquette | 9 | 12,867 |
| Xavier | 9 | 10,375 |
| Butler | 8 | 8,120 |
| Villanova | 4 | 7,958 |
| Providence | 8 | 6,877 |
| Seton Hall | 6 | 6,790 |
| Georgetown | 11 | 6,795 |
| DePaul | 8 | 6,079 |
| St. John's | 6 | 5,366 |
This continues a trend noted in games earlier this year:
POST-GAME COVERAGE
---
Georgetown took its last gift under its the 2017-18 non-conference scheduling tree saturday, with a comfortable 89-49 win over winless Alabama A&M before 5,149 at Capital One Arena.

As has been the case throughout its season, Alabama A&M started the game soundly but lacked the depth to stay in range. From a 7-7 tie and a 16-13 Georgetown lead midway in the first half, the Hoyas went on a 17-2 run to push the score to 33-15 and never looked back. The Hoyas led 44-21 at halftime and pushed the lead to as many as 40, 81-41, on eight straight points from freshman Antwan Walker in the final six minutes of the game.

All nine scholarship players scored in the game, with five in double figures: 16 from Walker, 13 from Jahvon Blair, 11 from Jessie Govan and 10 each from Kaleb Johnson and Jamarko Pickett. The Hoyas shot 57 percent from the field and forced 18 AA&M turnovers.

The Hoyas begin Big East play Wednesday, hosting Butler.

The Georgetown half of the box score:




            MIN   2FG   3FG   FT  REB  A  PF  PTS
Starters:
Mulmore      22   3-3   0-0   1-2   3   3  1    7
Pickett      20   2-3   2-6   0-0   3   1  3   10
Johnson      27   3-4   1-4   1-1   4   1  0   10
Derrickson   26   2-3   0-1   4-4   5   1  1    8
Govan        22   3-7   0-1   5-7   7   2  1   11
Reserves:
Blair        20   2-2   3-7   0-0   1   1  3   13
Mosely       22   3-4   0-1   0-0   7   5  2    6
Walker       15   6-7   0-0   4-4   4   0  1   16
Hines         4   0-0   0-1   0-0   0   0  1    0
Dickerson    18   4-4   0-2   0-0   2   6  1    8
Muresan       4   0-0   0-0   0-0   0   0  0    0
Team Rebounds                       2
DNP: Mourning
TOTALS      200  28-37  6-23 15-18 38  20 14   89

Georgetown shook off a first half deficit to pull away from North Texas, 75-63, before 4,226 at Capital One Arena Wednesday evening.

North Texas (7-6) took an early lead in this game and maintained it through most of the first half, relying on a patient half court offense that appeared to frustrate Georgetown's hopes for a more up and down game. Georgetown, shooting 38 percent for the half, took a lot of quick shots which were then converted by UNT for easy baskets.

The Mean Green led by as many as seven in the first half and carried a six point lead with 7:00 to play when the Hoyas picked up its only three pointers of the half from Jahvon Blair and Jamarko Pickett, which appeared to wake up the offense. Coupled with better defensive pressure off the ball, the Hoyas began to work their way up the scoring column while North Texas stalled. The Eagles missed six straight field goals over a five minute period as Georgetown closed to 30-29 with 2:04 to play. Back to back threes by UNT steadied its ship, but Georgetown answered with a Blair layup and free throws down the stretch to take a 34-33 lead into the break, Georgetown's first lead since the 16:22 mark.

The second half was a rough one for the Eagles, who shot 32 percent from the floor and continued to give up the ball via turnovers.

"What really separated us in the game was how we turned it over leading to transition points for Georgetown," said UNT coach Grant McCasland.

North Texas opened a four point lead early in the second half on a pair of layups, but Georgetown responded with a 19-7 run that put the Hoyas up 55-47 midway through the second half. The Georgetown lead was cut to five on a Shane Temara three pointer with 7:43 to play, but GU answered with a 9-2 run that put the game largely out of reach.

Marcus Derrickson led the Hoyas with 17 points, followed by 12 points by Jessie Govan and 12 from Jonathan Mulmore. Georgetown owned a 46-38 lead on rebounds and scored 18 points off 15 North Texas turnovers.

Any hopes that freshman Antwan Walker would see court time backing up Jessie Govan following the departure of Chris Sodom were, for now, not to be--Govan played 36 of 40 minutes and Walker did not see any time off the bench.

Roosevelt Smart, entering Wednesday's game as the leading scorer for the Eagles and coming off a 31 point effort versus San Diego, finished 3 for 18 from the field and 1 for 13 from three point range, and could not sustain the Mean Green down the stretch. While UNT got 20 points from Shane Woolridge and a 19 point, 14 rebound effort from center Shane Temara, Smart's lack of scoring didn't provide North Texas with enough firepower to stay in the game, as they remained winless on the season when scoring 70 or fewer points in a game.

Georgetown ends its soft non-conference schedule Saturday against its weakest opponent to date: Alabama A&M, winless in 11 games by an average of 22 points per game.

The Georgetown half of the box score:




            MIN   2FG   3FG   FT  REB  A  PF  PTS
Starters:
Mulmore      29   4-7   0-2   4-7   4   6  1   12
Pickett      24   0-6   1-1   2-4   4   2  3    5
Johnson      31   2-5   1-2   2-3   8   2  3    9
Derrickson   31   5-6   1-2   4-4   7   2  2   17
Govan        36   5-10  0-1   2-2  14   3  4   12
Reserves:
Blair        17   1-5   1-2   2-3   3   1  1    7
Mosely       21   2-5   0-1   2-3   4   1  1    6
Dickerson    11   2-3   1-3   0-0   1   1  3    7
Team Rebounds                       1
DNP: Hines, Walker, Muresan, Mourning
TOTALS      200  21-47  5-14 18-26 46  18 18   75

NEWS COVERAGE
---
Georgetown's tallest-ever player is now Georgetown's tallest ever ex-player, with reports that freshman Chris Sodom was dismissed from the basketball team Tuesday.

A 7-3 center from Nigeria, Sodom migrated to Houston in 2014, playing at Houston St. Thomas and Beaumont Central before settling at Tennessee Prep, a basketball-friendly correspondence school operating from the 1200 square foot house of its founder and basketball coach, Harold Rayford Jr. Sodom committed to New Mexico before Craig Neal was fired in March 2017, whereupon Georgetown added him in May.

A project player who saw spot duty in just six games, Sodom averaged 0.7 points and 1.3 rebounds a game. Nonetheless, he seemed a great fit to learn the game under Ewing, but the circumstances of his departure (referred to as "a violation of team rules") suggest otherwise. Game notes for Wednesday's North Texas game simply said that "Georgetown University men's basketball coach Patrick Ewing announced that freshman center Chris Sodom has been dismissed from the program for a violation of team rules. Sodom played 27 minutes in six games this season, averaging 0.7 points and 1.3 rebounds."

Sodom's name was also removed from the team's game notes, roster, and statistics pages.

Sodom's six games is the fewest of any Georgetown scholarship player since Jason Burns (1999-2000) and is the only first-semester departure since Joe Holmes, a 6-9 freshman who was asked to leave prior to the start of the 1978-79 season.

Sodom's loss further exposes Georgetown's depth at center, with little or no depth behind junior Jessie Govan:
| | | | | |
| --- | --- | --- | --- | --- |
| Guard | Guard | Forward | Forward | Center |
| Jonathan Mulmore (7.7) | Kaleb Johnson (12.0) | Jamarko Pickett (8.7) | Marcus Derrickson (13.6) | Jessie Govan (20.7) |
| Jagan Mosely (7.3) | Trey Dickerson (3.4) | Jahvon Blair (7.6) | George Muresan (0.0) | Antwan Walker (1.4) |
| Ramond Hines (0.0) | | | | Trey Mourning (injured) |
YES, THIS ACTUALLY GOT COVERAGE
---
Games between Georgetown and Syracuse seem to bring out the unusual in people.

A decade ago, a rally by George Washington students to Healy Gates to protest Georgetown not scheduling GW was greeted by silence, in that most Georgetown students were otherwise at Verizon Center for the GU-Syracuse game.

Saturday, a political commentator went to Twitter to accuse a Georgetown student of anti-Semitism for wearing a bacon suit on national television.

Within the first of half of Saturday's game arrived this tweet from Hilary Rosen, a Washington-based lobbyist. She is apparently not a fan of breakfast fashion: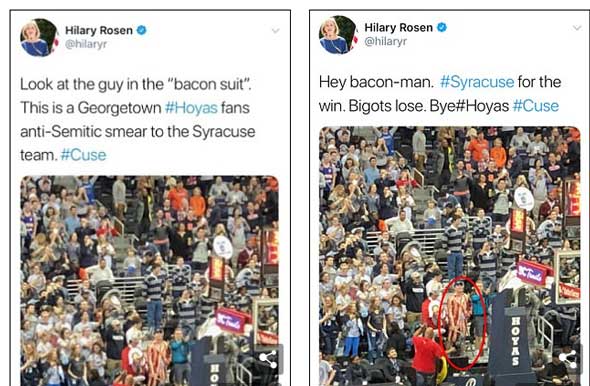 The individual in question is junior Michael Bakan (pronounced "Bacon") who regularly wears the outfit at games aside fellow student Nicolo Orozco, whose papal mitre and chasuble was not referenced in Rosen's outrage. But it didn't take long for the ill-informed political pundit to be grilled: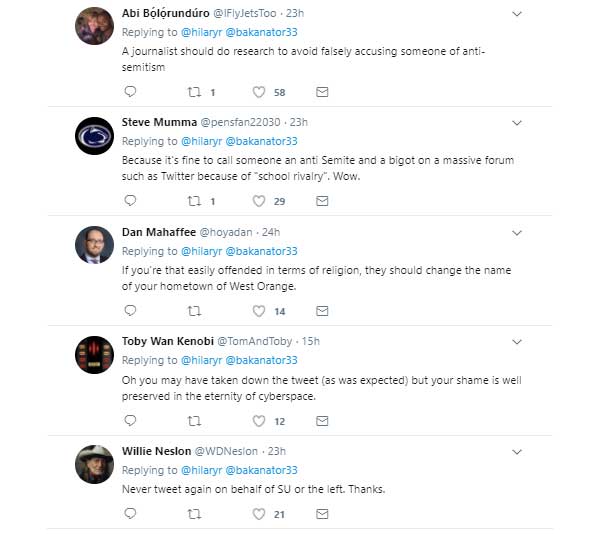 Exposed for her resolute lack of common sense, Rosen has since apologized. The current string of Twitter comments follows here.

And no, Rosen isn't even a graduate of Syracuse. Per her Wikipedia profile, Rosen is a graduate of George Washington University, she of the excuse that "I'm new to this school rivalry" despite having lived in Washington for the past 40 years.

What, did she miss the rally?
In the strictest of terms, the Georgetown Hoyas failed its only test of the 2017-18 nonconference slate, losing a 13 point second half lead in an 86-79 loss to Syracuse Saturday at Capital One Arena, the seventh consecutive overtime loss to an opponent at Capital One Arena dating to the 2008-09 season.

In a larger sense, however, the Hoyas proved to be a better team Saturday than its soft-serve scheduling would have suggested, and gave the Orangemen the kind of game fans have come to expect in the most heralded rivalry in Eastern basketball.

"Maybe the Hoyas needed an early string of cupcakes while they were adjusting to new coach Patrick Ewing's style," wrote Jeff Isenberg of Yahoo Sports. "But it's hard not to wonder if the Hoyas might have been more successful closing out the Orange on Saturday if this wasn't their first tight game against a good team."

The game "provided some hope, but ultimately not enough of it," wrote Patrick Stephens at The Athletic.

Both teams opened the game with little evidence of the ability to close, much less open, the game. In the first four minutes of play, the teams combined for one field goal in ten attempts. Fouls were the order of the day, as Georgetown picked up five team fouls before its first points of the afternoon, a three pointer by Jamarko Pickett at the 15:43 mark. Ragged play continued for much of the first half, with the teams combining to shoot 5 for 18 as Syracuse held a 10-7 lead midway through the half.

Georgetown began to settle down with the efforts of sophomore Jagan Mosely. With early foul trouble on Jonathan Mulmore and inconsistent play by Pickett, Mosely picked up the slack and began to drive inside and pick up points, opening the door for Georgetown to build an early lead. Six straight points from Mosely keyed a 10-2 run which built a 17-12 lead for the Hoyas with 5:47 to halftime. The Orangemen battled back to take a one point lead late, but GU answered enthusiastically with a 7-2 run to end the half up four, 28-24. In a half where both teams shot just 37 percent and combined to to 3 of 14 from three point range, Mosely's 10 first half points kept Georgetown within range of an exciting second half to come.

From 37 percent shooting in the first half, the Hoyas would be much more effective after halftime, shooting 12 for 18 (67 percent). In almost any other game, this would be the ticket to a victory, but Syracuse become more physical and much more effective on rebounding. The SU shooting effort, however, was still tentative and ineffective until a late run.

Georgetown's guard play took an immediate step backward to open the half, when Mulmore picked up his third foul just three seconds into the period, and he was not a factor thereafter. Inside play by the Hoyas resulted in a pair of Syracuse fouls early, and an 8-2 run gave the Hoyas a 36-26 lead at the first media time out. The tandem of Jessie Govan and Marcus Derrickson established its presence in the second half, scoring a combined 11 points straight over a four minute period, maintaining the lead at 10. The Orangemen found new life with forward Oshae Brissett, scoreless from the field in the first period but riding a hot hand in the second. A pair of Brissett three pointers and a pair of foul shots at the 12:25 mark closed the lead to seven, 47-40, but the Hoyas answered with a Jahvon Blair three in a 6-0 run to lead by a game high 13, 53-40, with under 11 minutes to play.

Turnovers and offensive rebounds opened the door for the Orangemen thereafter. Georgetown suffered turnovers on four of its next possessions, while Syracuse's Frank Howard scored two baskets off turnovers to close back to eight, 57-49. The lead stayed in this range through the 5:15 mark, where Derrickson was whistled for his fifth foul. The Orangemen missed on its next three shots (aided by two offensive rebounds), while free throws kept the lead at seven entering the final three minutes.

Georgetown had not been tested late in a game all season, and mistakes were soon magnified. After a Pickett jumper with 2:46 to play, up seven, Pickett was exposed as Syracuse's Matthew Moyer drove for a layup, 69-64, with 2:27 to play. On the next play, Mosely was picked off by Brissett, whose pass inside for Battle was swatted away by Govan in a crowd-thrilling play.

The Hoyas still led by five with 2:11 to play, but Pickett, whose touch has been on and off all game stayed off, missed an open jumper with 1:41 that was answered with a resounding three by Battle with 1:32, awaking the otherwise quiet Syracuse crowd in attendance. Up two, Govan lost the ball under the basket and Howard raced down the court for the tying basket, 69-69, with 1:00 left.

Twenty seconds later, Govan could not connect from short range, and SU held the ball for the last shot. Four attempts (and three offensive rebounds) in the final ten seconds would not go down, and although there was evidence that Govan was fouled on the final rebound, time had expired. Owing a resounding 14-0 advantage on offensive rebounds in the second half, the Orangemen had successfully erased a 13 point lead and earned themselves an overtime versus the Hoyas.

Uh-oh.

Overtime was a bad omen for the Hoyas as far as this series is concerned. Since its win over the Orangemen in the 1984 Big East final, the Hoyas were 1-9 in overtime games against the Orangemen, and GU had lost six straight OT games at home to various opponents over the past three seasons (Radford, anyone?) Put another way--if a coach can get Georgetown into overtime these days, he's likely to win.

Georgetown's futility after regulation of late is borne from a common circumstance--in most of these games, Georgetown lost a lead - and momentum - approaching the end of regulation, as opposed to fighting back for the tie. Without a focus on the task at hand, overtime periods can soon get out of hand, and such an outcome befell the G-men in this one.

The Saltine Warriors continued their hot hand in the third period. Tyus Battle opened with a three pointer, followed by a Pascal Chukwu layup. Consecutive baskets by Mosely closed the deficit to 74-73 when Battle sank yet another three to lead 77-73. The Hoyas closed back to two on foul shots by Govan at the 2:06 mark, marking the first stoppage in play in nearly three minutes of overtime.

Down four with 1:38 to play, Kaleb Johnson was open from the corner but a three point shot was off the mark, beginning a run where the Hoyas reverted to an old staple of the John Thompson III era in overtime games- settling for a quick miss from three rather than attacking the score inside. Georgetown missed badly on five three point attempts over a 1:10 stretch of the overtime as the Orangemen converted on seven of its final ten at the free throw line to put the game away. Syracuse was 3 for 4 from the field in the overtime, Georgetown just 4 for 12.

Had the score been favorable, Jagan Mosely would have been the player of the gam. His 20 points was a career high, and provided the spark that had eluded the Georgetown guards all afternoon. Instead, Syracuse would take the honors with career efforts from Battle and Brissett, combining for all 10 of Syracuse's three pointers and 54 points between them. For a Syracuse team that entered the game shooting just 28 percent from the floor from beyond the arc, Battle and Brissett carried the weight in this one. By contrast, Georgetown was awful from outside, shooting 2 for 17 and failing to complete a three over the final 17 minutes of the game.

Syracuse was led by 29 from Battle and 25 from Brissett, 24 of those 25 coming after halftime. The Orangemen shot just 40 percent from the game but controlled the boards and put the game away from the line. After a 2 for 6 effort from the free throw line in the first half, the Orangemen were 18 of 22 thereafter.

Georgetown ended the game shooting 45 percent from the field behind 21 from Govan and 20 from Mosely, and were quite comfortable at the line, going 18 for 20 after halftime. Twenty of Georgetown's 26 field goals were managed by assist.

How did Georgetown lose this game? One can look at the awful three point shooting or it complete lack of offensive rebound prowess after halftime. In the end, however, they lacked the experience to win; that is, as a young team the G-men have no experience putting an opponent away. Double digit walkovers over the MEAC school du jour left the Hoyas wholly unprepared for a serious second half challenge and the mental approach to absorb a rally and get back up. Syracuse, as a result of close games with Maryland, Kansas, and Connecticut, never wavered, and put themselves in a position to win--it may not have worked had the threes not gone down, but they put themselves in position to do so.

Georgetown, on the other hand, put themselves in a position to be beaten, and that's a lesson both for the players and a coaching staff that frankly hasn't been tested either in this tepid run of opponents designed to shield the inexperience of Ewing and his team. Ewing made only two substitutions in the final seven minutes of regulation and three of his starters played 17 minutes of more in the second half. If there was any second wind left in the Hoyas, it was expended in the substitution patterns and the fact that GU's bench is unprepared to provide significant relief. Georgetown, playing tentatively late and without a mooring in the front court following Derrickson's departure, simply lost focus.

What the Hoyas didn't lose Saturday was a sense of optimism. There were few Syracuse fans whooping and hollering in the concourse after the game, mindful, perhaps, that the Orangemen are a thin roster that may have stolen a win, but that will struggle in the ACC. Georgetown may struggle in similar circumstances within the Big East, but the roster shows signs that they can grow into a role which exceed the DePaul-like projections earlier in the year. It may not be enough to sniff the post-season, but today's Hoyas have learned a lesson which may pay dividends in a second half struggle later this season.

Good feelings notwithstanding, it was an opportunity lost, and sometimes you don't get second chances to make a first impression.

The Georgetown half of the box score:




            MIN   2FG   3FG   FT  REB  A  PF  PTS
Starters:
Mulmore      15   0-0   0-4   1-2   0   2  3    1
Pickett      32   3-5   1-6   3-3   2   4  4   12
Johnson      39   2-4   0-1   4-4   6   2  3    8
Derrickson   30   4-6   0-1   6-7   8   1  5   14
Govan        42   8-14  0-2   5-6   8   3  3   21
Reserves:
Blair        25   0-0   1-5   0-0   4   5  1    3
Mosely       30   7-10  0-1   6-8   5   3  4   20
Sodom         2   0-0   0-0   0-0   1   0  1    0
Dickerson    10   0-1   0-1   0-0   0   0  1    0
Team Rebounds                       3
DNP: Hines, Walker, Muresan, Mourning
TOTALS      225  24-40  2-17 25-30 37  20 25   79

Local crowds still are taking a wait and see attitude on the 2017-18 Hoyas, and Saturday's marquee matchup with Syracuse was more evidence of the same.

The game drew 15,418 to Capital One Arena, an attendance that may prove to be the season high given the remaining home schedule, but it was the smallest crowd to see Syracuse in Washington since the 2003-04 season. The last ten home games in the series drew an average of 18,452 per game:
| | | |
| --- | --- | --- |
| Date | | Attendance |
| 1/28/2002 | | 14,889 |
| 3/1/2003 | | 17,352 |
| 2/21/2004 | | 15,389 |
| 2/25/2006 | | 18,879 |
| 1/21/2008 | | 20,035 |
| 1/14/2009 | | 19,227 |
| 2/18/2010 | | 19,976 |
| 2/26/2011 | | 20,276 |
| 3/9/2013 | | 20,972 |
| 12/5/2015 | | 18,231 |
| 12/16/2017 | | 15,418 |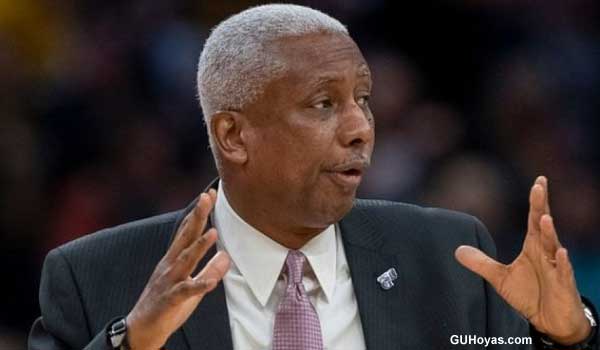 The arrival of Louis Orr to the Georgetown coaching staff caused no reaction from the Georgetown fan base. Not so at Syracuse, where the presence of the SU Hall of Famer on the Georgetown sideline is as jarring as if Hoya fans were seeing Reggie Williams sitting alongside Jim Boeheim.

Orr, 59, was part of the Jim Boeheim's first recruiting class and was part of arguably the greatest Syracuse team never to reach the Final Four. The 1979-80 Orangemen were led by the "Louie and Bouie Show", as Orr and center Roosevelt Bouie combined for 32 points and 16 rebounds a game. The Orangemen were ranked #2 nationally when it suffered a pair of late season losses to Georgetown in the first season of the Big East--the much remembered 52-50 loss in Syracuse and an 87-81 setback in the inaugural Big East Tournament final. Syracuse ended the season 26-4 and ranked #6, falling to Iowa in the regional semifinal. The loss averted a titanic third matchup versus Georgetown for a Final Four berth--two days later, Iowa prevailed over the "Heart Attack Hoyas", 81-80.

Now, representing the blue and gray instead of the blue and orange, Orr is comfortable with his role as a coach in Saturday's game.

"The rivalry part? That wasn't a big thing," Orr told the Syracuse Post-Standard. "I never had any animosity toward Georgetown. I just wanted to win. I understand the hype behind it. That's good for the players and the fans. I understand. But for me, at this stage of my life, it's about who I work for and with."

Orr met Ewing while the two played for the New York Knicks and maintained a friendship through their respective playing and coaching careers. When Ewing found himself as the last candidate standing for the vacant Georgetown job, he reached out to Orr, then in China, to join his staff.

"I'm enjoying it,", Orr said. "It's all about who you work for and with. The relationship you have with your staff and the players. We've got a great group of guys. And the school. Georgetown's a great school, a great academic school. DC's a great city, but it's really about the relationship with Patrick. I want to see him have success and see him do the best that he can."
Thursday's announcement of the acquisition of much of the Fox media empire by the Disney Corporation has wide-reaching implications in media, and sports is no exception.

"If the deal proceeds along the lines that have been reported in the media," writes CNN Money.com, "Disney will be taking on 21st Century Fox's studio and television production companies including its 20th Century Fox Film Corporation, National Geographic, its regional sports networks, and its stakes in Sky and Hulu. 21st Century Fox would keep its news divisions including Fox News and Fox Business, as well as its broadcast network and the local stations it owns and the cable channel Fox Sports."

For the Big East in general and Georgetown in specific, it would maintain its broadcast rights with FS1 but the conference would likely lose carriage on the 15 Fox Sports regional networks which covered games outside FS1, which would then be rebranded under Disney-owned ESPN, as well as the YES network, which Fox owns an 80 percent share. The move is also expected to throw a lifeline to ESPN's unfulfilled commitment to start a branded ACC Network, which is one of the primary draws to the schools which left the Big East for the ACC in 2013.

"While Disney-owned ESPN has rights to a variety of national broadcasts for professional baseball, football, basketball, as well as major Division I college sports, it's less deep on regional games," writes USA Today. "Fox's networks would help make ESPN's planned 2018 streaming service more attractive to sports fans that want to "cut the cord" and ditch their pay TV service."

The acquisition is not without risk, however.

"Disney is doubling down on its own troubled asset base," writes media and technology analyst Richard Greenfield, given the ongoing losses it is taking within the declining ESPN subscriber base. (The ESPN platforms have lost 13 million subscribers in the last six years, or over $100 million per month in lost subscriber revenue.)

"This is the perfect time [for Fox] to be getting out," Greenfield said. "God forbid an Apple or Amazon start buying sports rights, the whole cable bundle could collapse. Trying to get out now is absolutely the right move."
Saturday's game with Syracuse offer fans of the Hoyas (and Orangemen) plenty of opportunities to be there in person--the major ticket exchanges are reporting numerous seat blocks still open for sale.

Although Georgetown does not discuss season tickets sold, the attendance trends to appears to have opened up a number of seats that were once filled by regular ticket goers. Ticketmaster is offering seats as low as $29.00, with StubHub offering seats as low as $35.00 upstairs and starting at $70.00 in the lower bowl.

In what is likely to be the largest attended game of the season, Georgetown needs a large crowd (whether in blue and gray or just orange) to make up for the losses sustained by playing in front of thousands of unfilled seats. In 2012-13, the Hoyas brought 184,590 through the turnstiles in 17 home games, but by 2016-17, that number dropped to 129,000. In seven games this season, the Hoyas have drawn 40,691. Since 2013-14, the Hoyas have averaged just 8,519 in its last 72 home games, or 41 percent of capacity.

Below are the Big East attendance averages through Dec. 12:


| | | |
| --- | --- | --- |
| Team | Games | Avg. Attendance |
| Creighton | 5 | 15,984 |
| Marquette | 6 | 12,582 |
| Xavier | 7 | 10,359 |
| Butler | 6 | 8,343 |
| Villanova | 4 | 7,958 |
| Seton Hall | 5 | 7,636 |
| Providence | 6 | 7,136 |
| Georgetown | 7 | 5,813 |
| DePaul | 5 | 5,684 |
| St. John's | 5 | 4,537 |
With a season ending injury to the Philadelphia Eagles' Carson Wentz, Nick Foles returns to the starting lineup this weekend versus the New York Giants. Dan Steinberg of the Washington Post takes a look back a decade ago, when Foles was recruited to play basketball at Georgetown.

A two sport star at Westlake HS in Austin, TX, the 6-5 Foles was actively recruited by the Hoyas in a recruiting class that eventually brought Austin Freeman, Chris Wright, Mikita Meshcharakou (then known as Nikita Mescheriakov) and Omar Wattad to the Hilltop.

"Georgetown, Georgia Tech, Oklahoma and Texas Tech also were recruiting Foles, 6 feet 5, 235 pounds, for basketball," wrote the Arizona Republic in 2006. "He decided in favor of football last fall when he succeeded as a starter at the same high school that produced Drew Brees, now with the New Orleans Saints." Foles signed with Michigan State, but later transferred to Arizona.

Could Foles have been a two-sport star at Georgetown?

The article does not say if Foles was also recruited for football with the Hoyas, although four years earlier Georgetown had tried to recruit former Redskins quarterback Colt Brennan, who opted to walk on at Colorado, and who later set a NCAA record with 58 touchdown passes in a single season at Hawaii. Had Foles suited up on Multi-Sport Field, it may not have been productive for an NFL career--the Hoyas were a combined 7-36 (.162) between 2007 and 2010 under former coach Kevin Kelly, who went through six different starting quarterbacks over those four years.

Of Georgetown's 51 former players that played in the NFL, none was a quarterback.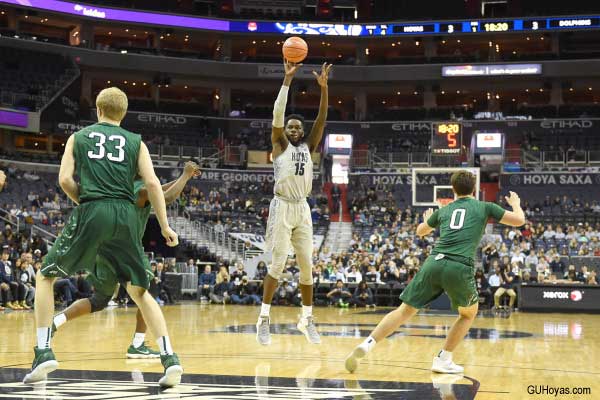 A week after a Roanoke Times columnist was grilled for including Georgetown on his Top 25 list, veteran writer Doug Doughty passed on the Hoyas for his weekly poll, but added a familiar opponent.

Doughty's poll, followed by the web site Collegepolltracker.com, lists Syracuse with two votes; like Georgetown the week before, Doughty's votes was the only points the 8-1 Orangemen received in the poll and far below the 145 votes received by the 25th team in the 65 member poll, Cincinnati (7-2).

At the top of the poll? Villanova, with 41 first place votes and 1,598 points overall. Other Big East teams include Xavier (#10) and Seton Hall (#15), with Creighton falling just short of the Top 25. Georgetown received two votes in the USA Today coaches poll this week, but the identity of the voter was not disclosed.

Georgetown's last appearance in the AP Top 25 was on March 14, 2015. Six Big East schools have been ranked since then, while St. John's, Marquette, and DePaul are the other schools that have not been ranked in the intervening years.
| | |
| --- | --- |
| Team | Last Appearance in AP Poll |
| Villanova | December 11, 2017 (current) |
| Xavier | December 11, 2017 (current) |
| Seton Hall | December 11, 2017 (current) |
| Creighton | November 27, 2017 |
| Butler | March 11, 2017 |
| Providence | February 25, 2016 |
| Georgetown | March 14, 2015 |
| St. John's | January 25, 2015 |
| Marquette | November 25, 2013 |
| DePaul | November 28, 2000 |
POST-GAME COVERAGE
---
The Georgetown Hoyas held North Carolina A&T scoreless for the first eight minutes of the first half, coasting to a 83-74 win Saturday at Capital One Arena.

The Aggies (5-3) were without its head coach, Jay Joyner, recovering from knee surgery. Assistant coach Jack Agostino could do little as the Aggies struggled at all ends of the court to open the game, missing its first 13 attempts of the game as georgetown built a 14-0 lead. Following a pair of free throws at the 11:22 mark, A&T got on the board from the field at the 10:52 mark, already down 12. The Hoyas led by as many as 15 in the half but led by only 11 at the break, 37-26, as Georgetown was an indifferent 1 of 7 from three point range and shot 41 percent overall, but led comfortable on the boards by a 26-16 mark.

Georgetown opened the second half on a 9-4 run to push the lead to 16, but as has been the case in prior games with teams from the Mid-Eastern Athletic Conference, the Hoyas saw a run to keep the game interesting. The Aggies closed to eight at 47-39 with 13:50 remaining, but the Hoyas pushed the lead back to 15 thereafter and the lead stayed in double digits until the final minute of the game.

Jessie Govan led all scorers with 22 points and 15 rebounds, followed by 12 from Jamarko Pickett and 10 from Kaleb Johnson. Georgetown shot 48 percent for the game, outrebounded its opponent 46-36, and never trailed. The win extended Georgetown's run to 60 consecutive wins over MEAC opponents in as many games, dating to the 1976-77 season, and was A&T's third straight loss on the season.

The Georgetown half of the box score:




            MIN   2FG   3FG   FT  REB  A  PF  PTS
Starters:
Mulmore      24   1-3   0-4   5-6   4   5  1    7
Johnson      29   3-5   1-2   1-2   5   2  1   10
Pickett      25   3-7   2-5   0-0   1   2  0   12
Derrickson   27   3-4   0-3   2-3   9   2  3    8
Govan        29   9-13  0-0   4-6  15   0  2   22
Reserves:
Blair        15   3-7   0-1   0-0   3   0  0    6
Mosely       19   3-6   0-2   2-2   3   3  2    8
Walker        9   0-0   0-0   2-2   0   1  1    2
Sodom         7   0-0   0-0   0-0   0   0  2    0
Dickerson    16   2-4   1-2   1-2   2   4  4    8
Team Rebounds                       1
DNP: Hines, Muresan, Mourning
TOTALS      200  27-49  4-15 17-23 43  19 16   83

POST-GAME COVERAGE
---
"We stayed around," remarked Howard coach Kevin Nickleberry.
Most of the prior entrants in Georgetown's soft-serve non-conference schedule have not been able to say as much.
Georgetown saw a 20 point second half lead dwindle to just five before moving past the Bison, 81-67, at a sparsely attended Capital One Arena of just 4,345 Thursday night. The run interrupted what was otherwise a rerun of much of the Hoyas' early game narratives, one which its talent overpowered smaller opponents and tended to mask deficiencies on defense and guard play.

The Hoyas never trailed in this one. Georgetown opened with a three pointer and led 13-4 at the first media time out. With no Howard defender taller than 6-7, Jessie Govan, had four rebounds and two assists in the first five minutes of play. After the Bison closed to seven at 27-20, the Hoyas answered with an 8-0 run to extended the lead to 15 at 35-20, and led by as many as 18 before a halftime score of 46-30, shooting 55 percent from the field and an even 6 for 12 from three point range.

Some early signs of trouble arrived early in the second half. Georgetown's three point shooting, accomplished with relative ease in the first half, began to fail as the Hoyas missed its first three attempts of the half. A run by the Bison to 12, 56-44, was countered by a 8-0 Georgetown run with just under 12 minutes to play, 64-44, and little suggested the outcome would deviate from the other late game exhibitions which have been common this season. But Howard didn't back down, even if Georgetown seemed to lose its intensity.

Key to the Bison efforts was its two best player, guard R.J. Cole and forward Charles Williams, both underclassmen. In a game where Howard struggled from outside, threes from Cole and Williams brought the Bison to 13 at the midpoint of the half, and Cameron Lewis added a three with 9:24 to play to make the game interesting, 65-55, with 9:24 to play.

A layup by Govan at the 8:29 mark ended an 0 for 8 scoring drought that saw its lead drop to 67-57. A Jamarko Pickett three with 6:03 to play appeared to steady the ship, much as the Hoyas did in the first half. But Howard's offensive tempo continued to test the Georgetown defense and the Hoyas were a step slow, allowing the Bison the confidence to continue its assault. The Bison closed to eight with 5:33 to play, 70-62, and a three pointer with 4:06 to play brought the Bison to five, 70-65. Georgetown's defense tightened, and the Bison missed five of its final six shots as the Hoyas picked up its seventh win this season.

Georgetown was led by 24 points and 16 rebounds from Jessie Govan, largely unopposed in the pivot. Strong efforts were also seen in a perfect 6 for 6 from the field and 18 points from Kaleb Johnson, and 16 from Marcus Derrickson. Guard play continued to be a work in progress, however, with guards Jonathan Mulmore and Trey Dickerson shooting a combined 2 of 13, with five turnovers. Georgetown shot just 37 percent for the second half and and allowed 55 percent from the field, a mirror image of the first half where Howard was 38 percent from the floor and allowed the Hoyas a 55 percent run.

Three Howard players, (Cole, Williams, and Cameron Lewis) combined for 56 of Howard's 67 points. The Bison outpaced the Hoyas by shooting percentage (46%-45%) and in threes (10 to 8), but the Hoyas held a 19 to 3 advantage at the foul line which proved the difference of the game.

The Georgetown half of the box score:

            MIN   2FG   3FG   FT  REB  A  PF  PTS
Starters:
Mulmore      32   1-5   1-4   4-4   2   2  2    9
Johnson      29   4-4   2-2   4-4   8   4  0   18
Pickett      31   1-4   2-6   0-0   1   3  1    8
Derrickson   37   3-5   2-4   4-4   9   4  1   16
Govan        35   9-14  0-1   6-10 16   2  1   24
Reserves:
Blair         9   0-0   1-3   1-1   1   1  0    4
Mosely       15   1-2   0-1   0-0   2   3  2    2
Walker        4   0-0   0-0   0-0   0   0  0    0
Dickerson     8   0-3   0-1   0-0   1   2  1    0
Team Rebounds                       1
DNP: Hines, Sodom, Muresan, Mourning
TOTALS      200  19-37  8-22 19-23 41  21  8   81

Yahoo Sports columnist Jeff Eisenberg minces no words with his view of the Hoyas' 7-0 start.

"Only one of college basketball's eight remaining unbeaten teams unequivocally should be disregarded as a schedule-aided fraud," he writes.

"The new Big East has been one of college basketball's three or four strongest league's the past few years, but even that isn't enough to offset a schedule as laughable as this one in the eyes of the NCAA tournament selection committee. Playing a steady diet of MEAC teams also can't prepare Georgetown for Big East play, nor does it attract recruits who want to play on a big stage or fans who want to watch high-level basketball."


On this date, 66 years ago: the dedication of McDonough Gymnasium features the Hoyas' first on-campus game in 23 years, a 57-50 loss to Fordham.

McDonough is one of the nation's oldest Division I facilities that has never been renovated over its life span, one which Georgetown has steered past any groundswell of a return to on-campus basketball. In 2000, plans were leaked in the Washington Post for a $20 million renovation effort to dig down below the current foundation of the gymnasium, rotate the court to an east-west configuration, and provide as many as 7,000 seats for basketball and convocation use.

A 2000 press release noted that "The designs will include the addition of sky suites and a renovated press box, new locker and dressing rooms, new conference rooms, and box and VIP seating. Georgetown can accomplish this design by digging down through the slab upon which the gym is built and turning the floor perpendicular to its current setup. This is a significant cost savings for Georgetown in that the roof would not be removed at all. The convocation center will serve as a hub for athletic and academic endeavors at Georgetown."

"Most of the [men's basketball] games would be played in the Convocation Center which would be packed with Hoya students and fans and create a more improved and collegiate atmosphere at games. The convocation center would also eliminate the travel time of our players and students to and from MCI Center."

The proposal fell on deaf ears up the hill, which failed to advance any funds to begin the effort, which could have been completed as early as 2004. Of Georgetown's five home games to date this season, four had attendance figures which could have been housed within such a facility.

The gymnasium will see action on its anniversary as the women's team hosts Minnesota. The team is averaging just 316 per home game at McDonough to date this season, ninth among the ten Big East schools.
Georgetown received votes in the Associated Press weekly Top 25 basketball poll, which then became a story of its own.

Georgetown received four votes overall, short of the 90 votes that would have qualified for the top 25 but representing its first votes of any kind since the Hoyas received eight votes on Dec. 14, 2015. Georgetown's last appearance in the AP Top 25 was on March 14, 2015.

All four votes this week came from Doug Doughty, the veteran reporter for the Roanoke Times, who placed Georgetown 22nd in his poll and responded by social media to questions of why he made his pick: "They were 6-0. Schedule is weak but wasn't that impressed with other options," Doughty initially wrote.

"I'm not going to spend much time pointing out how ridiculous it is for Doug Doughty to rank Georgetown 22nd on his AP ballot this week," wrote Gary Parrish at CBS Sports.com, who then proceeded to do so. "To be clear, it's completely ridiculous considering Georgetown was picked to finish next-to-last in the Big East and has done nothing to show it might be better than that. The Hoyas haven't even played a top-200 KenPom team yet. Their best win is an 82-76 victory against a Richmond team that's 1-7. But whatever. I'm sure Doughty would argue 6-0 is 6-0 is 6-0. So if he wants to be the one person on the planet who thinks Georgetown's perfect record means something, I'll let him do it. He looks silly."


He later clarified with a Twitter post, below, which got its predictable share of criticism.
| | | |
| --- | --- | --- |
| Team | Games | Avg. Attendance |
| Creighton | 4 | 15,504 |
| Marquette | 6 | 12,582 |
| Xavier | 5 | 10,398 |
| Butler | 5 | 8,407 |
| Seton Hall | 4 | 7,267 |
| Providence | 5 | 7,026 |
| Villanova | 3 | 7,074 |
| DePaul | 3 | 6,484 |
| Georgetown | 5 | 6,204 |
| St. John's | 5 | 4,537 |
Sunday's announced attendance of 6,335 to Sunday's BB&T Classic was a far cry from its heyday, and columnist Ben Standig suggests the event may have run its course.

"Sunday's slate of Temple-George Washington and Coppin State-Georgetown, a doubleheader in name only, offered no such buzz even with the new addition of Hoyas head coach Patrick Ewing," Standig wrote in this column at the WRC-TV web site.

Previous entrants to the tournament have included Kansas, Stanford, Gonzaga and Connecticut, but the level of competition (and interest) has tailed off in recent years.

"The decline isn't a one-year issue and there's zero evidence to think a reversal is coming," said Standig.

George Washington, a participant in the tournament dating back to 1995, announced earlier this season they would not schedule future games in this event.
POST-GAME COVERAGE
---
Jessie Govan scored 26 points and 16 rebounds, but the Georgetown Hoyas turned in a largely unimpressive effort Sunday in a 76-60 win over a winless Coppin State club in the nightcap game of the BB&T Classic at Capital One Arena.

Despite missing its first seven shots of the game, Coppin State (0-8) stayed close throughout the game. An 18-9 Georgetown lead nine minutes into the first half seemed an opportunity to open up the stat sheets, but a pair of Coppin State three pointers closed the gap to 21-15. Another volley of three point shots carried the Eagles to within two, 25-23, but Coppin State missed seven of its last nine attempts of the half. Georgetown carried a 10 point lead into halftime, built on a 12-2 advantage at the free throw line.

A similar story developed in the second half. The Hoyas extended the lead to as many as 14, but Coppin State's patience on the offensive end kept them closer than anyone expected. Here was a team who had lost to six opponents by an average of 26 points, including a 53 point loss at Ohio, closing to five, 51-46, on a three point shot by Taqwain Drummond at the nine minute mark. The Eagles' defensive touch soon failed as the Hoyas went on a 14-2 run to put the game out of reach with 5:32 to play, 65-48.

Coppin State had no answer inside for Govan, who scored at will, who scored 16 points and eight rebounds by halftime en route to his 26 point, 16 rebound effort, the latter a career high. Govan was joined by 13 each from Marcus Derrickson and Jamarko Pickett, but the rest of the team was a combined 6 of 16. The Hoyas shot 50 percent for the game and outrebounded the Eagles 40-28, but failed to exhibit any significant defensive pressure on the opposition.

Sixteen GU turnovers kept Coppin in distance but not in range to seriously challenge for the win. The Eagles have lost 66 consecutive games to Division I teams out of conference dating to 2013.

Another soft opponent follows Thursday versus Howard. The Bison (1-7) have one win to date this season, a 81-64 win versus Central Penn College, a non-NCAA school.

The Georgetown half of the box score:



            MIN   2FG   3FG   FT  REB  A  PF  PTS
Starters:
Mulmore      22   0-0   0-1   7-10  3   5  4    7
Johnson      34   1-1   0-2   1-2   4   5  0    3
Pickett      22   2-5   3-5   0-2   4   2  0   13
Derrickson   31   3-4   2-4   1-2   4   0  4   13
Govan        27   6-11  1-1  11-14 16   0  2   26
Reserves:
Blair        12   0-0   0-3   0-0   1   0  2    0
Mosely       19   2-3   0-1   0-1   4   1  0    4
Walker       11   2-3   0-0   0-0   2   0  1    4
Dickerson    12   1-1   0-1   4-5   1   2  2    6
Team Rebounds                       1
DNP: Hines, Sodom, Muresan, Mourning
TOTALS      200  17-28  6-18 24-36 40  15 15   76

This weekend marks the 20th anniversary of one of the most significant dates in the history of Georgetown basketball, and of local sports: the opening of a downtown arena. And for college-age fans who assume Georgetown has always played in an upscale part of town with restaurants and museums outside the door, all within a transfer on Metro, well, it wasn't always so.

Since 1981, Georgetown had played games at Capital Centre in Landover, MD, a dark, solitary facility on the eastern edge of the Capital Beltway. No Metro trains served the arena's environs, not a gas station or restaurant was in sight. Fans drove (or in students' case, took school buses) for the 45 minute drive from Georgetown's campus for the next 16 seasons. The Hoyas enjoyed some of its greatest success there (a combined mark of 219-78), but fans had long grown tired of the place.

"There was nothing to do when you got there- no neighborhood restaurants, no shops, no sign of life - and then they overcharged you to park there," wrote the Washington Post's Tony Kornheiser in 1997. "Madison Square Garden, it wasn't."

The decision of Washington Bullets owner Abe Pollin to wager his personal fortune to build an arena in a decayed part of downtown Washington meant two things: the days of Capital Centre (renamed US Airways Arena) were numbered, and Georgetown was following along. One day after the new arena opened on Dec. 2, 1997, Georgetown held its opening game in what was called MCI Center, losing to Villanova 73-69 before a debut crowd of 13,181. Fans were not only treated to a brand new arena, but saw the Hoyas on its own blue and gray-styled floor--for all the years at Capital Centre, Georgetown played on the red, white, and blue floor of the Bullets.

The arena now known as Capital One Arena has not only changed Georgetown basketball but has been a significant contributor to the economic upturn of Chinatown and the Penn Quarter neighborhoods. A 2013 study reported that the value of real estate projects in the area had topped $8.5 billion, with 52,739 jobs added to the neighborhood and over $3 billion in tax revenue for the District of Columbia.

Sunday's game with Coppin State won't remembered among the great games in the arena's history, but in honor of the 20th anniversary, here are 20 that deserve a look back, presented in chronological order:
1. Dec. 31, 1997: Georgetown was a struggling 16-15 in MCI Center's first year, but its first (and only) home win over a ranked opponent came on a New Year's eve matchup with West Virginia, where Kenny Brunner scored 15 in a 74-67 win.
2.
Jan. 6, 2001
: In the first matchup between two ranked teams at the arena, #19 Georgetown upset #11 Seton Hall, 78-66, its first win over a ranked opponent since Jan 27, 1997.
3.
Feb. 24, 2001:
After four straight years of losing to Syracuse at home, the Hoyas upset the Orangemen 72-61, earning the first court rush by students since the McDonough Gymnasium days.
4.
Feb. 9, 2002:
Mike Sweetney set a personal career high with 35 points and 20 rebounds in the longest game in Georgetown history, a 116-111 loss to Notre Dame in four overtimes. Still remembered for Kevin Braswell's three missed shots to end each overtime, the Hoyas set five Big East records in the game.
5.
Feb. 21, 2004
: This one still stings: in the midst of a season ending slide that cost Craig Esherick his job, the Hoyas rallied to tie #24 Syracuse at 54-54 with five seconds left. On the ensuing play, SU's Gerry McNamara hit a shot at the buzzer for a 57-54 win.
6.
Jan. 21, 2006
: Georgetown had only defeated two #1-ranked teams in the regular season in its history, but its 87-84 win over Duke set the trajectory skyward for John Thompson III in his second year. "Are we better at it than we were at this point last year? Yes," answered Thompson. "Are we a long way from where we are going to be? Yes."
7.
Feb. 10, 2007:
In the early days of a 29 game win streak at Verizon Center over a three year run, the Hoyas welcomed back 100 years of former players by shutting down #11 Marquette, 76-58, behind a combined 47 points from Jeff Green and Roy Hibbert.
8.
March 3, 2007
: In a sign of things to come, the Hoyas defeated Connecticut 59-46 to end a record 11 game losing streak to the Huskies, giving Georgetown its first #1 seed in the Big East tournament in 18 years. The Hoyas would win its next seven games en route to the 2007 Final Four.
9.
Jan. 12, 2008
: Roy Hibbert had not even attempted a three point shot in his first 116 games of college basketball. When it did, it was memorable, in Georgetown's 72-69 win over Connecticut, its first back to back home wins over UConn in 16 years. Here's the finish:
10.
Jan. 21, 2008:
Holding the Orangemen without a field goal for the final 7:21 of the game, Georgetown holds off Syracuse, 64-62.
11.
March 8, 2008:
Georgetown completed back to back Big East regular season titles in spectacular fashion, where a Dajuan Summers three with 35 seconds remaining piloted the Hoyas to a 55-52 win over Louisville.
12.
Jan. 31, 2010:
Playing before a sold out crowd that included President Barack Obama and Vice President Joe Biden, the #7 Hoyas shot 71 percent from the field and pulled away from #8 Duke, 89-77, marking John Thompson III's 200th career win.
13.
Feb. 6, 2010:
Fighting through a 22" blizzard that descended upon the city, 10,187 fans saw the Hoyas dismantle #2 Villanova, 103-90, behind 25 points from Austin Freeman.
14.
March 7, 2010:
One week after a stomach flu alerted medical officials that Austin Freeman was suffering from diabetes, Freeman returned to the lineup to score 24 as the Hoyas defeated Cincinnati in the home finale, 74-47.
15.
Feb. 25, 2012:
The #9-ranked Hoyas held Villanova to just one field goal in the final 10:29 in a 67-46 win, holding the Wildcats to its fewest points against GU in 28 years.
16.
Jan. 26, 2013:
The last of the home games with Louisville, Georgetown upset the #5-ranked Cardinals, 53-51. The Hoyas held Louisville scoreless in five consecutive possessions to win the game.
17.
March 9, 2013:
The #5-ranked Hoyas won the 2012-13 regular season with a 61-39 rout over Syracuse, holding the Orangemen to its lowest point total since 1962. The sellout of 20,972 sets an all time home attendance record for the Hoyas.
18.
Jan. 19, 2015:
The Hoyas survived two second half runs in a 78-58 win over #4-ranked Villanova , marking the largest margin of victory over a Top 10 opponent since Allen Iverson led the Hoyas to a 106-68 win over a #6-ranked Wildcats team in 1996.
19.
Jan. 26, 2016:
The Hoyas scored 15 points in the final 2:16 to upset Creighton, 74-73, behind 19 points from D'Vauntes Smith-Rivera.
20.
Feb. 11, 2017:
Three players scored 20 or more points in Georgetown's 80-62 win over Marquette, its last home win of the John Thompson III era.