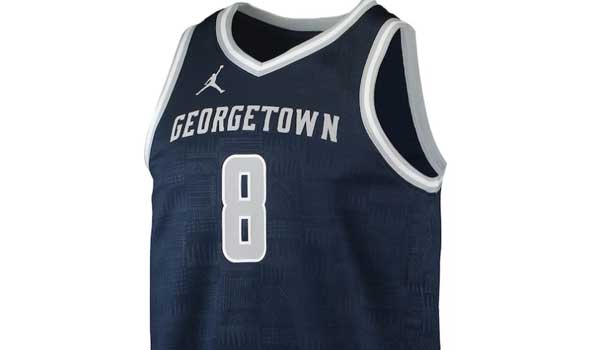 An NCAA committee will decide next week on changes to the college jersey unseen in the last 65 years.
Since the 1958-59 season, players have worn jerseys with just 36 possible combinations of the numerals 0 through 55, per NCAA rules that jersey numbers allow the officials to signal a player's number with a single hand (a #43 versus a #8) for the purposes of identifying players or calling fouls. The
NCAA Playing Rules Oversight Panel
meets June 8 to consider extending jersey numbers to the NBA and FIBA standards of any combination from 0 to 99. (A previous FIBA rule limited its jerseys from #4 to #15.)
The limit of combinations has become an issue with schools that regularly retire jersey numbers: Duke, for instance, has retired 13 of the numbers available and
issued one of its freshman a retired jersey number
last season.
What jersey numbers have been retired by Big East schools?
| | | |
| --- | --- | --- |
| Team | No. | Numbers |
| Butler | None | |
| Connecticut | 1: | 34 |
| Creighton | 3: | 33,35,45 |
| DePaul | 2: | 24,99 |
| Georgetown | None | |
| Marquette* | 11: | 3, 11, 14, 15, 20, 24, 31, 38, 43, 44, 77 |
| Providence* | 10: | 10, 14, 15, 23, 24, 25, 33, 34, 50, 54 |
| St. John's | 4: | 13, 20, 33, 55 |
| Seton Hall | 8: | 3, 5, 8, 11, 12, 24, 34, 44 |
| Villanova | 1: | 11 |
| Xavier | 4: | 23, 30, 33, 42 |
* Jerseys "retired" but number is still available for use.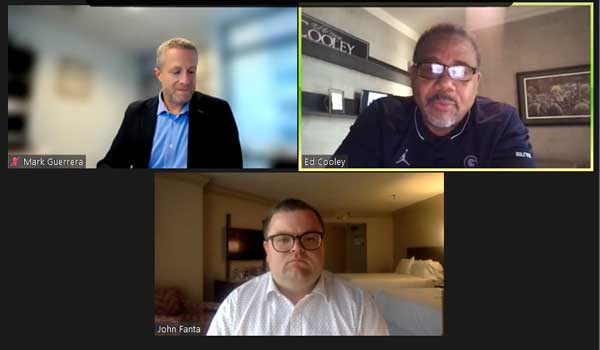 Head coach Ed Cooley held a one hour Zoom call Thursday.
The conversation, moderated by Fox Sports' John Fanta and Hoya Hoop Club president Mark Guerrera, followed the tone of Cooley's other public conversations: gratitude upon arriving at Georgetown, promoting fan turnout, but not over-promising for the season ahead. A few items of interest:
There was no comment on this week's commitments by Drew McKenna and Supreme Cook, likely because nothing has been signed. Cooley spoke briefly on incoming players Rowan Brumbaugh, Ismael Massoud, and Drew Fielder, but did not provide any additional details on the rest of the recruits nor his thoughts of returning players Akok Akok, Wayne Bristol, Jay Heath, or Ryan Mutombo. He noted that players arrive to campus the the end of the week and the first team meeting follows this weekend before the beginning of the summer term on June 5.
A question was raised about the Kenner League. The coach said he wasn't sure if his staff could attend but downplayed the likelihood of a summer kids camp this season, saying there was too much going on at this time.
Cooley expressed support for the school's emerging NIL effort, promising news "really, really soon" on how people could support Hoyas Rising as well as the Hoya Hoop Club.
There was no discussion of additional non-conference scheduling, with as many as eight games yet to be announced. Fanta noted the level of fan support at Big 12 schools such as Texas Tech and TCU, and Cooley cited the needs for home games at Washington to be attended as well.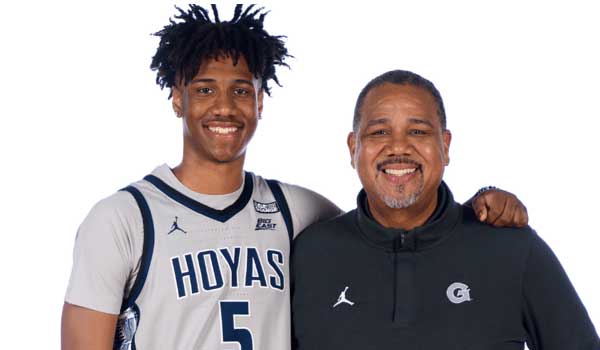 Ed Cooley and staff completed a busy month of recruiting adding a highly sought after junior forward.

ADDITIONAL COVERAGE
Tarryl (Drew) McKenna, a 6-8 combo forward from Glenelg Country School in Ellicott City, MD, committed to Georgetown Tuesday over offers from Butler and Xavier. The top ranked recruit from the state of Maryland for the Class of 2024 and ranked 89th among juniors nationally, McKenna had a career high of 42 points and 18 rebounds versus Bishop McNamara on Feb. 28. Though Glenelg Country finished only 7-17 on the season, McKenna had a number of offers as a junior, and was formally offered by Georgetown on May 3.
As has been the case throughout the spring, reporter Joe Tipton at
On3.com
was first on board with the signing. "I chose Georgetown because Ed Cooley is a very relatable coach, he told Tipton. "He understands me and my family and he matches how hungry I am. I love the passion and integrity he has as a coach."
The signing begins a long held process by Cooley to reestablish Georgetown in local recruiting circles. Though Glenelg is closer to Baltimore than Washington, McKenna lives in Prince George's County, which many feel has surpassed the District of Columbia as a primary source of local college talent. "I am from PG County, Maryland," he said. "I like [Cooley's] vision about taking the talent from the area to make Georgetown great again. I think I'm the player to help him do that."
"McKenna is just the the type of four-man that has historically thrived under Cooley," said 247Sports scout Adam Finkelstein. "He's strong, can be physical inside, but also a mismatch problem because of his ability to face-up and make some plays off the bounce."
Of further interest to fans: McKenna, a rising high school senior, will reclassify to this year's class via a GED and will enroll at Georgetown for the fall. The only time Georgetown previously accepted a reclassified recruit was forward
Stephen Domingo
in 2012; Domingo struggled mightily in the college game and averaged just 0.7 points per game in two seasons at Georgetown (2012-14) and 2.0 ppg at California (2015-17). Given McKenna's stature in the 2024 class, he expects to be more prepared for a role in college.
"I'm ready to help bring the program back to greatness," he said.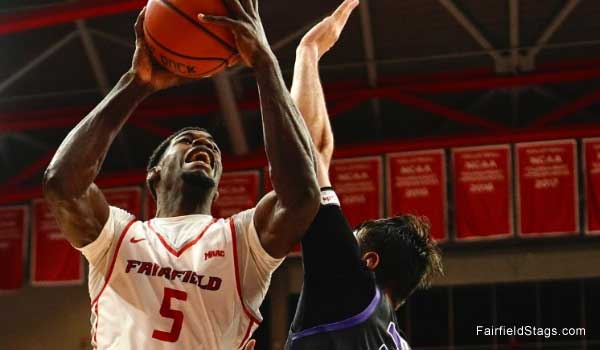 Following the signing of Drew McKenna, Georgetown added depth up front with a transfer from Fairfield.
A 6-9 forward from East Orange, NJ,
Supreme Cook
played high school basketball at St. Benedict's HS in newark and a prep year at the Peddie School. He originally
committed to Columbia
in the summer of 2019 before signing with Fairfield, where he averaged 10 points and 7.5 rebounds in three seasons with the Stags and collected a pair of 17 point, 17 rebound efforts in two games this past season. Cook was a
third team all MAAC selection
in 2022-23 and ranked 14th on a list of
players still available
once the transfer portal closed to new entrants.
While Cook has two years of eligibility remaining, he will be a senior academically and may be an option to graduate on time in 2024, reopening the scholarship for the 2024 recruiting class, which has been a priority class for the Hoyas to date.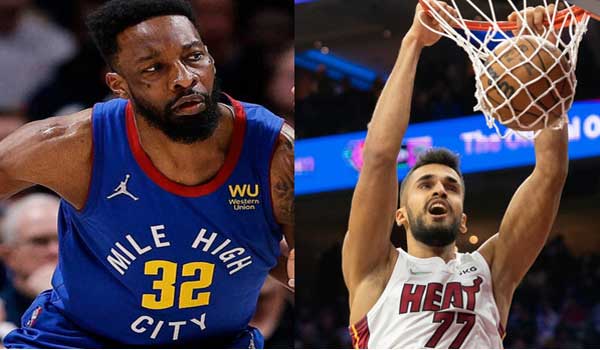 For perhaps the first time, a pair of Georgetown alumni will meet each other in the NBA Finals: its oldest NBA player, and its youngest.
When
Jeff Green
made his NBA debut with the Seattle Supersonics in 2007,
Omer Yurtseven
was nine years old. Green is now 36, on his 12th NBA team, averaging 7.8 points per game off the bench for the Denver Nuggets. Across the floor Thursday night will stand Yurtseven, 25, undrafted after graduating from the Hilltop in 2020 and in his second season as a deep reserve for the Miami Heat.
"I'm not one to reflect on a season before it's over, so I'll keep this short and sweet. But this is a special moment, for Denver, for the Nuggets organization, for my teammates, and, yeah, I won't lie, for myself," Green said at a first person articvle in
The Players Tribune
. "It's a very cool feeling to be in this spot, especially with my path to get here. 16 years. 15 seasons. 1,000 plus games. 11 teams. (I count Seattle and OKC as one stop!) Some people, I know they probably look at 11 teams and see the negative. They see a journeyman, or whatever word you want to use. But for me I see the positive in that word: I see the journey I've had, and the perspective I've gained. I'm grateful for everywhere my NBA career has taken me. I'm proud it's still going.
One of the two players will become just the fifth former Georgetown player to have won an NBA championship, joining
Billy Hassett
of the 1949-50 Lakers,
Jaren Jackson
of the 1998-99 Spurs,
Alonzo Mourning
in 2005-06 with the Heat and
Otto Porter
from last season's champions, the Golden State Warriors.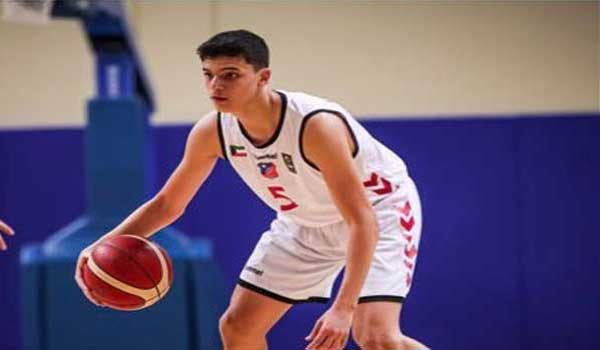 An unexpected commitment arrived over the weekend, with a 6-1 guard from Kuwait announcing he will walk on to the Georgetown team next fall.
Hashem Asad, a 6-1 guard from the American School on Kuwait City,
announced a commitment Saturday on social media
. Asad played in the Kuwait national prep team, averaging 8.7 points in the Asian U16 tournament, but high school sports do not exist in that country and so a comparison to other recruits is difficult.
Georgetown does not comment on walk-on recruits, but if Asad arrives for the Kenner League in July, we may learn more about his potential contribution this upcoming season.