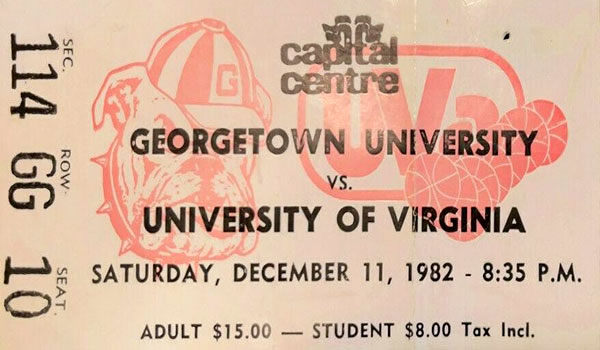 Forty years ago this weekend was a big deal in Georgetown Basketball.
On December 11, 1982, #3 ranked Georgetown met #1 ranked Virginia before a sold out crowd of 19,035 at Capital Centre and millions of viewers at homes around the nation. The game changed how television networks cover the game, and was the first major college sports event ever broadcast on cable TV.
Read more about it at this link to the
Georgetown Basketball History Project
.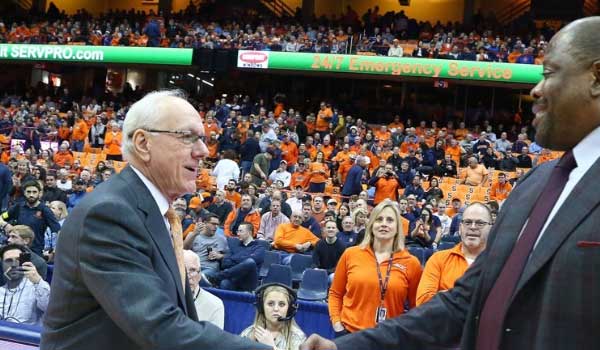 The 98th meeting between Georgetown and Syracuse comes with a certain foreboding on both sides, and of the series itself.
A win by the Hoyas elevates its record to just 6-5, its record just before the bottom dropped out of the schedule last season. Its play to date has not raised any rational hopes that it can escape the bottom tier of Big East play, where Georgetown has taken residence for the past eight seasons. A loss on national TV will further amplify those voices who contend that the Patrick Ewing era has run its course.
For the first time in decades, similar concerns haunt the Orangemen. Jim Boeheim has sat on the Syracuse sidelines for 57 of the last 60 seasons as either a player, assistant coach, or head coach, and that program now seems mired in mediocrity. Last season was Boeheim's first losing season since he took over for Roy Danforth in 1976, and the Orangemen have not finished higher than sixth in the ACC since 2014. A loss on national TV will further amplify those voices who contend that the legendary Jim Boeheim era has also run its course.
In 2019, Georgetown announced in a
news release
that the series had been extended 2022-23. Neither side has announced if it will continue, and whether Georgetown's visit to the Carrier Dome (yeah, we'll
still call it the Carrier Dome
) may be its last visit to upstate New York for a while. A national TV audience accustomed to Top 10 battles between these schools will see two teams with a combined record of 10-9 do battle, while neither team has been nationally ranked entering the game in the last seven years.
More on the Orangemen follow at the
Pre-Game Report
page, with a recap here beginning 20 minutes after the conclusion of the game.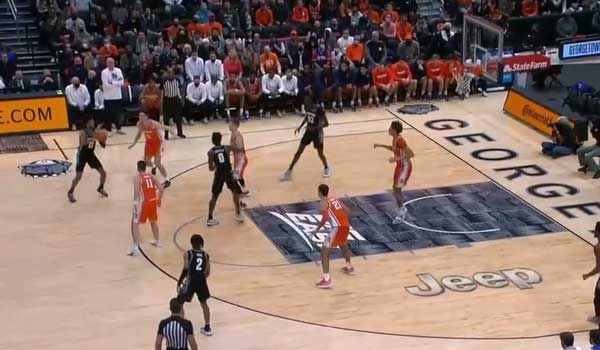 From HoyaSaxa.com, December 11, 2021:
Twenty second half points from freshman Aminu Mohammed led the Georgetown Hoyas to a 79-75 win over Syracuse Saturday before 13,598 at Capital One Arena.
Georgetown opened an early lead from the hot hand of Kaiden Rice, who followed up on his effort versus UMBC with three consecutive threes over a 1:12 run, 11-7. Led by strong early rebounding by Aminu Mohammed, the Hoyas were battling on every play but Syracuse went inside to reserve center Frank Anselem, with five points over a six minute stretch that gave the Orangemen a five point lead, but missed its next six and a three from Dante Harris tied the score midway through the first half, 21-21.
The Orangemen returned to the lead from an unlikely source--its bench. While Georgetown stayed close via the three, it had nothing inside the arc (3 for 14) and Syracuse responded with good play inside from its reserves, outscoring GU 9-2 from the bench, 16-6 in the paint, and building a 35-28 lead with 3:31 in the first half and a ten point lead at the break, 44-34.
Patrick Ewing sat the centers and went with a smaller lineup to open the second half, with immediate effect. The Hoyas answered with a 17-7 run to open the second period, with Mohammed scoring 12 of the Hoyas's first 17 points of the period. By contrast, the Orangemen backed out of a significant advantage in the paint and floundered as a result, shooting 36 percent in the second half with no offensive rhythm, relying on three pointers to stem the blue and gray tide.
A three point shot and foul by Donald Carey gave Georgetown its first lead of the second half, 55-53, with 11:32 to play, and the game see-sawed thereafter. Five Georgetown turnovers over the next four minutes offered the Orangemen opportunities to take over, but they stumbled as well. Mohammed scored the next six points over a two minute stretch to keep Georgetown ahead, 72-71 with 2:01 left, answered with a Jimmy Boeheim offensive rebound and put back 21 seconds later, 73-72.
With the shot clock running down, the Hoyas went to a player that had all but disappeared in this game, forward Kaiden Rice. Rice, who hit three threes to open the game but was a maddening 1 for his last 11 thereafter, hit a three with 1:11 to go to up two, 75-73. Syracuse, still lacking the will inside, launched up an errant Cole Swider three and GU took into the final minute, up two.
Georgetown caught a significant break when a kicked ball with 26 seconds remaining reset the shot clock in their favor, one of three plays in the second half where the whistles went against the Orangemen. Free throws from Donald Carey put the game away in the final ten seconds.
Mohammed's game high 23 led a team effort, with special mention paid to Donald Carey (18 points, 4 assists) and 6-6 Collin Holloway, who manned the pivot in the second half to considerable success, finishing with 10 points, eight after halftime. The Hoyas shot 56 percent after the break and owned a 38-31 advantage on rebounds after being outrebounded 19-16 in the first half.
Syracuse fans could not be pleased with the complete breakdown in momentum of the Orangemen after halftime. The Syracuse offense devolved into unprepared, haphazard outside shooting, and no impact from a bench that had contributed nine points down the stretch to end the first half. Only one bench player saw action in the second half, with no attempts in three minutes of play. The starting five combined to shoot 13 for 36 after halftime, 3 for 14 from outside, did not make a three in the final 7:17, and were outrebounded 22-12.
Another key: fouls, or the lack thereof. GU committed only six fouls after halftime and Syracuse had only two points from free throws after halftime.
Since 2000, Georgetown is 9-2 versus Syracuse when it scores 75 or more points in a regulation game.
Here's the Georgetown half of the box score:

            MIN   2FG   3FG   FT  REB  A  PF  PTS
Starters:
D. Harris    33   1-4   1-2   2-4   7  6   2    7         
Carey        35   0-0   4-7   6-6   4  4   0   18
Mohammed     37   6-13  1-1   8-9  13  5   3   23   
Rice         35   0-0   5-15  0-0   1  0   0   15   
Wilson       13   1-1   0-0   0-0   3  0   0    2
Reserves:  
Beard       11    0-1   0-1   0-0   2  4   2    0         
Billingsley  3    0-1   0-0   0-0   0  0   0    0 
Riley        2    0-0   0-0   0-0   0  0   0    0
Mutombo     10    1-2   0-0   2-2   1  0   1    4 
Holloway    21    5-7   0-0   0-0   1  1   3   10
DNP: Ighoefe, Azinge, Clark, Muresan
Team Rebounds                       6                 
TOTALS      200  14-29 11-26 18-21 38 20  11   79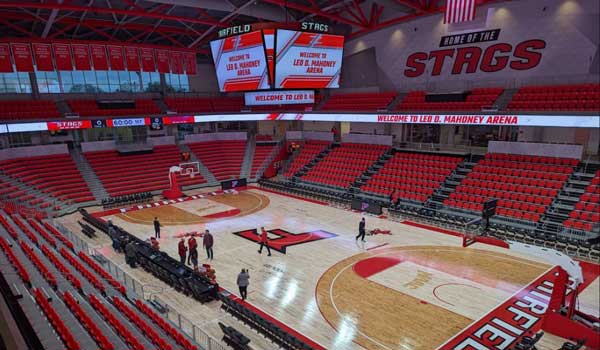 For years, Georgetown has said "we can't". Another school said "we can."
On the 71st anniversary of the opening of McDonough Gymnasium,this story from Matt Brown's Extra Points web site discusses the basketball program at Fairfield University, which moved to a new on-campus arena this fall.

Twenty years ago, the Stags moved home games from its 2,500 seat Alumni Hall to the 10,000 seat Total Mortgage Arena in nearby Bridgeport. "The arena was too big for the fanbase, so the atmosphere faltered," he wrote. "The school ran marketing campaigns and offered shuttle service, but trying to convince fans to hop on a bus to go to downtown Bridgeport to watch a (mostly) meh basketball team was a tough sell...School officials told me they'd average around 200 students a game, even when the team was good or hosting a quality opponent. If Fairfield wanted to rebuild that atmosphere, they'd need to find a way to come back home."

"Paul Schlickmann, the school's AD, stressed to me the true importance of both the student experience in what the department is trying to build...both for the athletes, and non-athlete students," said Brown. "Building a modern, and local arena, to hear them explain it, is less about trying to optimize financial returns, and more about providing a pathway for athletes to play in front of their friends, for generations of Stags to come back and reconnect, and to foster that true community."

Brown writes that "it won't generate $50 million in new revenues or guarantee a Big East invite, or lock down future NBA starters. But it will give you a place that students can walk to, so they can wear sunglasses indoors, chant with their friends, make silly signs, and yell at officials. Enough people felt so strongly about their experience doing that at Fairfield that they donated all [$51 million] needed to build this new arena.

"So those experiences matter. On some level, they're really the only thing that matters."

Meanwhile, there are no confirmed plans to address any future for McDonough Gymnasium, one of the 15 oldest facilities in Division I.