From the past 12 months, a look back at ten of the top stories of the year in Georgetown Athletics:
10. The Graduate (May 19): Former All-American Jeff Green successfully completed a year of rehabilitation following corrective heart surgery and earned his degree from Georgetown in the spring.
9. Hoya Football On ESPNU (September 22): The Georgetown football team made its first ever appearance on national TV, defeating Princeton on a field goal with 19 seconds remaining, 21-20.
8. Two and Done (March 18): Georgetown's 2011-12 men's basketball season came to an abrupt end in a 66-63 loss to 11th seed North Carolina State, marking the third consecutive loss to a double digit seed in as many NCAA appearances.
7. Florida: No Contest (November 10): The much anticipated basketball opener between Georgetown and Florida was halted at halftime when condensation on the floor aboard the USS Bataan created an unsafe condition for the players. The game was not rescheduled.
6. Urick Retires As Lacrosse Coach (July 16): After 23 years at Georgetown and nearly 40 in the profession, David Urick retired as men's lacrosse coach following a 7-6 record in 2012.
5. Approved But Unfunded (April 13): The Fine Arts Commission and Old Georgetown Board gave its approval to the construction of the Intercollegiate Athletics Center, but the University has not announced a major gift which could set a construction date for the long-delayed project.
4. Georgetown Sailing: National Champions (June 11) : The sailing team took home its third national title since 2001 for its win in the ICSA/Gill coed dinghy race.
3. Flournoy To Auburn (April 4) : Despite signing a five year extension in 2010, women's basketball coach Terri Williams-Flournoy abruptly left Georgetown for the head coaching job at Auburn, telling her new school "it wasn't a hard decision" to leave GU.
2. Soccer Goes To The College Cup (December 10): The Georgetown men's soccer team completed its greatest season ever, including an upset of Maryland in the national semifinals before a narrow loss to Indiana in the College Cup final.
1.Back To The Future (December 15): Georgetown joined six other schools in announcing it will leave the Big East in 2014 or 2015 to an as-yet unnamed conference of regional Catholic schools. A new era, or a move towards the deemphasis of basketball at Georgetown? Time will tell.
Here are the current player totals for minutes, points, rebounds, and assists per game (starters highlighted in gold):
| | | | | |
| --- | --- | --- | --- | --- |
| Player | Mins | Points | Rebounds | Assists |
| Porter | 33.0 | 13.2 | 7.7 | 3.2 |
| Whittington | 35.3 | 12.5 | 7.4 | 1.9 |
| Starks | 30.0 | 11.1 | 1.4 | 2.4 |
| Hopkins | 22.1 | 8.4 | 3.0 | 1.5 |
| Lubick | 28.5 | 7.5 | 5.1 | 3.1 |
| Trawick | 21.0 | 5.8 | 2.6 | 1.3 |
| Smith-Rivera | 18.7 | 5.7 | 1.5 | 0.6 |
| Domingo | 8.6 | 2.0 | 0.3 | 0.6 |
| Ayegba | 5.4 | 1.1 | 1.5 | 1.6 |
| Bowen | 4.0 | 1.0 | 0.9 | 0.1 |
| Caprio | 2.0 | 0.8 | 0.6 | 0.4 |
| Hayes | 2.2 | 0.0 | 0.6 | 0.0 |
| Allen | 1.0 | 0.0 | 0.0 | 0.0 |
| Bolden | 1.5 | 0.0 | 0.0 | 0.0 |
| Total | | 66.6 | 33.8 | 15.5 |
How have individual players fare this season? One efficiency measurement is points per field goal attempt:
| | | |
| --- | --- | --- |
| Player | 2012-13 | 2011-12 |
| Lubick | 1.58 | 1.31 |
| Smith-Rivera | 1.39 | NA |
| Trawick | 1.37 | 1.48 |
| Caprio | 1.33 | 0.29 |
| Porter | 1.29 | 1.35 |
| Hopkins | 1.26 | 1.38 |
| Starks | 1.21 | 1.24 |
| Whittington | 1.17 | 1.15 |
| Ayegba | 1.13 | NA |
| Domingo | 0.83 | NA |
| Bowen | 0.78 | 0.90 |
| Hayes | 0.00 | NA |
| Allen | 0.00 | NA |
| Bolden | 0.00 | NA |
A more detailed statistic is points per possession (PPP), where total possessions are defined as the sum of total shots - offensive rebounds + possessions that end in a turnover. The ratings follow below:
| | | |
| --- | --- | --- |
| Player | 2012-13 | 2011-12 |
| Porter | 1.39 | 1.53 |
| Lubick | 1.37 | 1.53 |
| Caprio | 1.33 | 0.20 |
| Smith-Rivera | 1.26 | NA |
| Trawick | 1.21 | 1.35 |
| Ayegba | 1.13 | NA |
| Whittington | 1.09 | 1.15 |
| Starks | 1.07 | 1.05 |
| Hopkins | 1.06 | 1.47 |
| Domingo | 0.77 | NA |
| Bowen | 0.70 | 0.86 |
| Hayes | 0.00 | NA |
| Allen | 0.00 | NA |
| Bolden | 0.00 | NA |
Player by player, Georgetown's starting five plus guards Jabril Trawick and D'Vauntes Smith Rivers account for 95% of the points and 93% of the rebounds to date this season. As Big East play heats up, it may be difficult for many of the other reserves to see time:
The Starting Five:
Markel Starks: A positive step forward for the junior this season to date, shooting 47% from the field, a team best 44% from three point range, 84% from the line, and a nearly 2:1 assist to turnover average. His scoring will be counted upon in conference play as teams lock down on Porter and/or Whittington.
Greg Whittington: Whittington has been step for step with Porter except for three pointers, where he is shooting 29 percent.
Otto Porter: The most productive player on the team continues to do so: 51% from the field, 43% from three point range, a 2.67 to 1 assist to turnover ratio. He'll be ready.
Nate Lubick: After a 2011-12 season of early foul trouble and a lack of confidence on his shooting, Lubick has improved in both this season, and both will be tested down the stretch, especially if Hopkins picks up early fouls in games.
Mikael Hopkins: Hopkins is making the transition to starting center but his interior shooting is poor for a big man (41%) and he has been an early target of foul trouble, averaging nearly 3.3 fouls per game. Hopkins has already fouled out twice this season.
First Two In:
Jabril Trawick: Continues to get things done, but needs to pick up his three point range (35.3%) and free throw shooting (66.7%).
D'Vauntes Smith-Rivera: After a big start vs. Duquesne, DSR's numbers have dropped down as has his shooting percentage (37.0%). He'll see his share of time in every Big East game this season.
Will See Some Time:
Moses Ayegba: Georgetown needs an experienced backup in the pivot this season and Ayegba did not get enough time in the non-conference (5.4 min/game) to make his case to get into the regular rotation. Will see time if Hopkins' foul trouble persists.
Stephen Domingo: Domingo's early arrival to the college game has been a bumpy one, with poor outside shooting (2 for 16) weighing down his numbers. The talent is there, and as such he will see limited action in conference play.
Aaron Bowen: Played sparingly (4.0 min./game) but was substituted in a pair of first half sequences, which may prove to be a role in spot duty.
Along The Bench:
John Caprio: It may only be late in games, but Caprio looked more confident and capable on the court this season and could see a few minutes late in conference play.
Bradley Hayes: Has the skills, but is not ready for sustained Big East play. Could be pressed into service if Ayegba is unable to battle down low with opponents.
Brandon Bolden: Has taken root alongside David Allen on the far side of the bench. Has shown nothing in three minutes of action this year and it may be unlikely to see much of him down the stretch this season.
David Allen: Could see some time down the road, but not likely this year.
Otto Porter scored 16 points and 13 rebounds as #15 Georgetown dispatched American University, 65-48 at Verizon Center Saturday for its tenth win of the 2012-13 season.
Georgetown opened quickly in a 10-3 run to begin the game and were never seriously threatened. Porter began to take over at the 14:44 mark, adding a three pointer and a layup as Georgetown followed up with a 10-6 run and a 20-9 lead. The Eagles closed at 20-14 at the 12 minute mark and later at 32-25 with 4:34, before the Hoyas held AU scoreless for the remainder of the half, leading 40-25, and the first 4:17 of the second, whereupon had Georgetown now led by 23, 48-25.
The key to the first half was Georgetown's shooting touch: 56 percent from the field, seven three pointer, and holding the Eagles to 33 percent shooting. The Eagles fared no better in the second (6-27, including a woeful 2-14 from two point range), but the Hoyas cooled down in the second as well. The lead was pushed to 26 points midway in the half, whereupon coach Thompson brought in the bench, but after the reserves surrendering 12 straight points without a basket, Thompson took the unusual step of returning back all five starters down the stretch. In the end, American gave up one second half turnover and Georgetown scored one field goal in the final 9:56, but the game was not in doubt.
"I'm happy with where we are," said coach Thompson in post-game comments. "When you start the year, if you were to say after 11 games you're going to be 10-1, will you take that? I'll take that, now none of us are sitting in the locker room with our heads in the sand saying, "we're playing perfect basketball." We all realize there are so many areas of the game that we can get better at. So am I happy with 10-1? Yes, but I do realize that we have to continue to improve."
Georgetown returns to action Jan. 5 at Marquette.
The Georgetown half of the box score:

            MIN   2FG   3FG   FT  REB  A  PF  PTS
Starters:                                 
Starks       27   0-3   2-3   0-0   1   2  1    6 
Whittington  33   3-4   2-5   1-1   4   2  2   13
Porter       34   2-6   3-4   3-5  13   3  1   16
Lubick       26   2-5   0-1   2-3   9   2  2    6 
Hopkins      16   4-6   0-0   1-1   3   5  1    9
Reserves:
Smith-Rivera 16   0-1   2-5   2-2   0   0  0    8
Bowen         6   0-1   0-0   0-0   2   0  0    0 
Caprio        2   0-0   0-0   0-0   2   0  0    0 
Domingo      12   0-0   0-2   0-0   0   0  0    0 
Ayegba        7   0-1   0-0   0-0   0   0  2    0
Hayes         1   0-0   0-0   0-0   1   0  0    0 
Trawick      20   2-4   1-1   0-0   4   4  1    7
DNP: Allen, Bolden  
Injured: Adams
Team Rebounds                       3
TOTALS      200 13-31  10-21  9-12 42  18 10   65

Additional coverage follows below. The Washington Times relied on the Associated Press recap.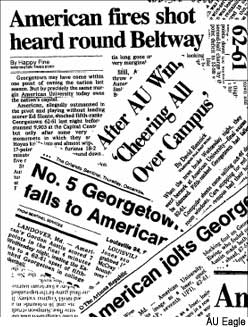 American and Georgetown have met 52 times since 1938, but one game stands alone for the Eagles, who have won just once over the Hoyas since the 1974-75 season.
On Dec. 15, 1982, American upset the #5-ranked Hoyas at Capital Centre, 62-61, making headlines nationwide as the Hoyas, coming off a 68-63 loss to #1 Virginia four days earlier, were out of sorts and never fully recovered.
"Saturday's game had nothing to do with it," said coach John Thompson in post-game remarks. "We were simply outplayed, that's all."
Despite no starter taller than 6-8, the Eagles were on their game from the start. Senior Mark Nickens scored 13 first half points as the Eagles shredded the Georgetown defense and carried a 15 point lead into halftime, 39-24. The Capital Centre crowd of 9,902 expected a second half comeback from the Hoyas and got it, but did not expect 5-10 senior Gordon Austin, who scored seven of his game high 17 from the free throw line to hold off the Hoyas late. Freshman David Wingate led the Hoyas with 24 points, with 11 points and 16 rebounds from Patrick Ewing.
Contrary to urban legend, John Thompson did not cancel the series following this game. The teams continued to play through the 1986-87 season.
The #15-ranked Georgetown Hoyas survived an early barrage from three point range and pulled past Western Carolina 81-68 before an exam week crowd of 7,341 at Verizon Center Saturday.
The Catamounts (4-7) were without two starters at the onset of the game, as guard Trey Sumler and forward Brandon Boggs were benched for the first half for missing a team meeting. Their scoring output was more than matched by 6-4 junior Tom Tanklelewicz, who led Western Carolina's four threes in its first four attempts to take a 13-6 lead on the homestanding Hoyas.
Georgetown regrouped on defense and outscored the Catamounts 12-2 midway in the half to regain the lead. Greg Whittington and Jabril Trawick combined for 23 points in the half as a combination of Georgetown's eight offensive rebounds, forcing turnovers (10) and frequent foul shots wore down the Cats in the first half. Georgetown outpointed Western Carolina by 12 at the line (15-20 vs. 3-6) and carried that 12 point advantage into the break, 42-30.
A 10-4 run to open the second half extended the Georgetown lead to 52-34, its largest to date, and 66-40 with 11:22 to play. With Georgetown adding reserves to its mix, The Catamounts answered with runs of 7-0 run at the eight minute mark and 9-3 with under four minutes to play, but time was not on its side.
Greg Whittington scored a career high 25 points and 11 rebounds for the Hoyas, followed by 14 from Jabril Trawick, 12 from Otto Porter, and 10 from Markel Starks. Tom Tanklelewicz had seven three pointers and finished with 24 for the Catamounts, who finished with 11 threes on the afternoon.
Georgetown is on a one week break during mid-semester exams, and returns to Verizon Center to face its only local opponent of the 2012-13 schedule, American University, on Dec. 22.
The Georgetown half of the box score:

            MIN   2FG   3FG   FT  REB  A  PF  PTS
Starters:                                 
Starks       25   5-7   0-1   0-0   2   2  3   10 
Whittington  36   5-7   3-5   6-8  11   2  2   25
Porter       37   5-8   0-3   2-3   9   2  0   12
Lubick       22   2-3   0-0   0-0   4   2  2    4 
Hopkins      24   0-4   0-0   4-7   2   4  3    4
Reserves:
Smith-Rivera 18   0-3   1-4   3-4   0   1  1    6
Bowen         1   0-0   0-0   0-0   0   0  0    0 
Domingo       9   1-2   1-4   1-1   1   0  0    3 
Ayegba        5   1-1   0-0   1-2   2   1  2    3
Trawick      23   1-3   2-2   6-8   1   2  1   14
DNP: Allen, Bolden,  Caprio, Hayes
Injured: Adams
Team Rebounds                       2
TOTALS      200 20-38   6-15 23-33 34  16 14   81

Additional coverage follows below:
The Longwood Lancers were no match for the #15-ranked Georgetown, as turnovers powered the Hoyas to an 89-53 win before 5,283 at Verizon Center Monday. The 89 points more than matched the last two home game totals, as Georgetown took advantage of Longwood's weak interior defense all evening.
In their first ever meeting with Georgetown, Longwood (2-7) scored on its opening possession but never held the lead thereafter. Georgetown went on a 9-0 run to establish control early in the first half, and recorded assists on each of its first seven field goals. Georgetown maintained an 8-10 point lead through much of the first half, with an 11-3 run near the end of the half helping the Hoyas to a 16 point lead at the break, 40-24. Georgetown shot 52% for the half, with 14 assists on 16 baskets, and collected 26 points off of 18 first half turnovers by the Lancers.
A 23-8 run to open the second half opened the lead for the Hoyas and they never looked back. Consecutive threes by junior markel Starks pushed the lead to 55-29 and GU pushed the lad to 63-32 at the 12:00 mark. The comfortable lead and some early foul trouble from sophomore center Mikael Hopkins allowed coach John Thompson III to open up the bench, with Moses Ayegba (13 mins., 4 pts., 5 rebs.) and Stephen Domingo (18 mins, 7 pts.) getting more game time experience than in previous games. Georgetown led by 40 at 82-42 before the remaining reserves closed out the game.
Otto Porter led all Georgetown scorers with 22 points, along with seven assists and four steals, with no fouls and no turnovers. Markel Starks scored 17, the only positive scorer from outside as Georgetown continues to have problems behind the three point line. Starks was 4-5 from behind the arc, the rest of the team combined to shoot 2-15. Nate Lubick set a career high with seven assists.
Despite shooting a respectable 44 percent from the field, turnovers proved fatal to Longwood's cause. The Lancers entered the game averaging 20 turnovers a game and surrendered the ball 30 times in the game, 10 more than their total number of field goals.
The Georgetown half of the box score:

            MIN   2FG   3FG   FT  REB  A  PF  PTS
Starters:                                 
Starks       19   2-4   4-5   1-1   0   3  1   17 
Whittington  29   4-7   0-5   0-0   2   1  0    8
Porter       25   8-10  0-1   6-8   4   7  0   22
Lubick       29   2-3   0-0   2-3   4   7  3    6 
Hopkins       9   2-3   0-0   0-0   0   0  4    4
Reserves:
Smith-Rivera 23   2-5   0-1   2-3   2   1  1    6
Allen         1   0-0   0-0   0-0   0   0  0    0
Bolden        2   0-0   0-0   0-0   0   0  0    0
Bowen         8   1-1   1-3   0-0   0   0  1    5 
Caprio        5   2-3   0-0   0-0   0   2  0    4 
Domingo      18   2-3   1-4   0-2   0   2  1    7 
Ayegba       13   2-4   0-0   0-2   5   2  2    4
Hayes         3   0-0   0-0   0-0   1   0  0    0
Trawick      16   3-4   0-1   0-0   4   0  2    6
Injured: Adams
Team Rebounds                       4
TOTALS      200 30-47   6-20 11-19 26  25 15   89

Additional coverage follows below:
Georgetown University will formally announce today its participation in a major educational consortium with Harvard and MIT known as edX, according to the Washington Post.
"EdX is a not-for-profit enterprise of its founding partners Harvard University and the Massachusetts Institute of Technology that features learning designed specifically for interactive study via the web," reads a statement from its web site. "Based on a long history of collaboration and their shared educational missions, the founders are creating a new online-learning experience with online courses that reflect their disciplinary breadth. Along with offering online courses, the institutions will use edX to research how students learn and how technology can transform learning–both on-campus and worldwide."
Georgetown is the sixth university worldwide in the edX network, which is among the leaders in the innovative programs known as MOOC (massive open online courses), where anyone worldwide can take courses online through American universities. The emerging technology has the potential to significantly change the concept of higher education, which is why Georgetown's selection in this consortium is especially noteworthy.
Georgetown's online classes will begin in the 2013-14 academic year.
"Our partnership with edX and a distinguished collection of universities, coupled with our Jesuit values, will allow us to expand our mission of providing a world-class education dedicated to the applications of our research, scholarship and service both here on campus and throughout the world," said University president John J. DeGioia (C'79, G'95) in a news release.
"Georgetown University is an excellent addition to edX," added MIT President L. Rafael Reif. "It brings important strength in many areas of scholarship and has long had an especially powerful voice in public life and discourse. The edX community stands to benefit greatly from what Georgetown can offer."
Georgetown's goal of an NCAA national championship ended pone game short, as Indiana's defense outlasted the Hoyas in a 1-0 final at the 2012 College Cup in Hoover, AL.
Compared to the quick-moving pace of the semifinal with Maryland, Sunday's final was more like trench warfare as neither team scored by halftime and the lone goal of the game came in the 63rd minute. A potential tying goal by the Hoyas grazed the goal post with 1:07 left. Georgetown had only two shots on goal for the afternoon.
"First off congratulations are in order to Indiana, they were deserved winners. I also have to say that it's a real honor and privilege to represent Georgetown University, this athletic department and this student body," said head Coach Brian Wiese. "Seeing how this team galvanized the Georgetown community was inspiring for everybody. It hurts as much for these guys as it does for all of Georgetown that we weren't able to come out with a national championship today."
The win was Indiana's eighth championship in 18 College Cup appearances. This was the first such appearance for Georgetown (19-4-3), which began the season unranked in the national polls.
Twenty eight times since 1955, Georgetown and Maryland had met in men's soccer, and Maryland won every one of them. Friday, on the stage of the NCAA national semifinals, Georgetown broke that streak on penalty kicks, 4-3, sending GU to its first ever national final Sunday versus Indiana, as the Hoosiers are making its 14th appearance in the championship finals and seeking its eighth title, last held in 2004.
The game can be seen at 2:00 pm (EST) on ESPNU.
Additional coverage follows below:
A week after an tepid offensive performance at home against Tennessee, the Hoyas went into the deep freeze for a matinee with Towson, shooting 17% in the first half en route to a 46-40 finish at Verizon Center. The score marks the third consecutive game a Georgetown opponent has been held to 42 points or less, and the first such number in the stat sheets since the opening three games of the 1983-84 season.
Were it not for defense, the Hoyas would have had likely lost its first non-conference home game in its last 40 at the downtown arena. Georgetown missed its first six shots of the game and 13 of its first 15, yet only trailed by one midway in the first half. At one point the Hoyas were shooting under 10 percent (3-27) yet the score was tied at 13-13. Baskets by Otto Porter and Greg Whittington near the close of the first half gave Georgetown its only lead before intermission, 17-15, as the Hoyas finished with 17% shooting at the break, Towson just 23%.

The Tigers were able to benefit from former Georgetown forward Jerrelle Benimon's past experience in the system.

"I could read stuff," Benimon said. "I played in the offense, so it's just a whole bunch of reads, so once you see one thing you can sniff it out. It helped a lot, especially in the first half."

"He might know what we're trying to do more than some of the guys in our locker room," said Thompson. "He's a very smart player and he's a tough player. As I told our guys, that's not an excuse, because once conference play starts, every team we play is going to know what we're doing, they're going to know our calls, just like we're going to know what they're doing and what the calls are."


GU shooting,
first half


GU shooting,
second half


GU 3-pt shooting


GU bench shooting


Towson advantage,
rebounds


Towson turnovers


Georgetown led by as many as five early in the half but could not shake the Tigers due to its continued poor shooting--at one point, Porter was 4-9, the rest of the team 2-25. From a 26-22 lead, the Tigers scored five straight to lead 27-26 at the 11:48 mark. Greg Whittington scored four straight to put the Hoyas up three, 30-27, but a Towson three began a back and forth run over the next seven minutes with Georgetown not able to lead by more than three.
Once again, GU looked to build a lead, with a Nate Lubick pass to Greg Whittington to go up five at 42-37 with under five minutes to play. Towson answered with a Jerrelle Benimon three at the 4:35 mark, 42-40. Both would be the last field goals for a while, as Georgetown missed three straight threes down the stretch, and made one of two from the line. Towson responded with two turnovers and an air ball from three point range. Markel Starks' jumper at the foul line with 25 seconds remaining pushed the lead to 45-40, while D'Vauntes Smith-Rivera added a late free throw.
Any comparisons to the Tennessee game were put into perspective by head coach John Thompson III in post-game remarks.
"I felt this was much different than the Tennessee game, because against Tennessee we were getting point blank shots that weren't going in," he said. "Today our flow wasn't as good as it needed to be in both halves."
Aside from poor shooting, Georgetown was unable to solve the Towson zone defense and it showed throughout. For its part, Towson gave up 22 turnovers and could not convert down the stretch with the game very much in question. The Tigers were led by Benimon with 10 points and 16 rebounds.
"It's got to get better," Thompson remarked.
The Georgetown half of the box score:

            MIN   2FG   3FG   FT  REB  A  PF  PTS
Starters:                                 
Starks       31   2-6   0-5   0-0   0   2  1    4 
Porter       36   3-6   1-4   1-3   6   2  4   10
Whittington  38   3-8   1-5   2-2   6   2  1   11
Lubick       32   3-5   0-0   4-4   5   3  2   10 
Hopkins      26   1-5   0-0   8-12  4   1  3   10
Reserves:
Smith-Rivera 17   0-0   0-1   1-2   3   1  1    1
Trawick      20   0-2   0-1   0-1   4   0  0    0
Injured: Adams
DNP: Allen, Bolden, Caprio, Domingo, Ayegba, Hayes
Team Rebounds                       4
TOTALS      200 12-32   2-16 16-24 32  11 12   46

Additional coverage follows below:
Despite having witnessed West Virginia's failed attempt to sue its way out of paying damages to the Big East, Rutgers University is taking the same approach, suing the Big East conference to avoid a $10 million exit fee as it plans to leave the conference for the Big Ten in 2014.
By the terms of the Big East bylaws, Rutgers is obligated to remain in the conference through June 30, 2015.
Less than one hour before announcing the Big Ten move, attorneys for Rutgers filed suit in a New Jersey court, claiming that because the Big East does not receive an automatic qualification to the BCS, it is not bound to pay increase in exit fees from $5 million to $10 million. The point may be moot, inasmuch as there are no automatic qualifiers in any conference after 2013. The Big East increased exit fees in 2011 following the loss of Syracuse and Pitt from $5 million to $10 million, but Rutgers claims it "was not in attendance and therefore did not vote in favor of the amendments."
Rutgers also asked the court for its share of the exit fees paid by other schools and for the conference to reimburse Rutgers for a game scheduled (and later cancelled) with Texas Christian University when TCU had committed to join the Big East.
West Virginia tried a similar tactic in November 2011, claiming that the Big East was no longer "viable" and the acceptance of a partial payment was sufficient to leave without paying the full $5 million exit fee. The Big East countersued three days later, and West Virginia eventually settled for $20 million, $9 million of which was paid by members of the Big 12 conference, to allow WVU to play in the Big 12 in 2012, two years earlier than scheduled.
Among other schools, Syracuse and Pittsburgh have negotiated exit payments of $7.5 million to each leave one year early in 2013; the status of Notre Dame and Louisville is to be determined. The only school to honor its full commitment without legal posturing was TCU, which paid a $5 million fee in full when it opted to join the Big 12 instead.
The University of Texas entered Tuesday night's game with Georgetown with two significant concerns: shot selection and turnovers. Both failed the Longhorns as Georgetown pulled away early in a 64-41 win in the Jimmy V Classic. The Longhorns shot just 28 percent and made one field goal in a 13 minute stretch of the second half, while committing 22 turnovers on the game.
The die was cast early in this game, as Georgetown (wearing white jerseys for the first time in five seasons) scored the first nine points of the game while Texas was 0-5 from the field and five turnovers in its first 10 possessions. Reserve forward Sheldon McClellan accounted for Texas' first seven points as the Longhorns closed to six at 13-7, but Georgetown answered with a 13-2 run to push the score to 26-9 at the 6:26 mark of the half. Utilizing a number of reserves down the first half stretch, Georgetown made only two field goals over the final four minutes of the half, but carried a 13 point lead at the break, 30-17.

Texas opened the half with a zone defense that proved effective against the Georgetown attack, as Georgetown managed only one basket in the opening four minutes of the second half and Texas closed to eight, 32-24. baskets by Markel Starks and Nate Lubick got the Hoyas back in gear, while the Longhorns continued to struggle from the field and in ball possession. Despite some spotty shooting by the Hoyas, GU was nonetheless able to push the lead to 14 at the 14:16 mark, 18 at the 11:48 mark, and 22 by the seven minute mark, in large part because the Longhorns could not get any production offensively. With 6:30 to play, an inside dunk by forward Cameron Ridley was the first field goal for UT since the 16:00 mark.


Texas field goals


Texas field goals,
final 16 minutes of game


Texas turnovers


GU shooting pct.,
most given up by UT
this season


GU rebounds,
second most this season


The Longhorns managed just six field goals in the second half and committed ten turnovers, giving ample opportunity for the Hoyas to empty the bench, including a driving dunk by junior Aaron Bowen with a minute to play.
Otto Porter led the Hoyas with 14 points and eight rebounds, followed by 13 from Nate Lubick and 11 from Markel Starks. Greg Whittington struggled much of the game and ended with just five points, while center Mikael Hopkins was in early foul trouble and finished with just one point in nine minutes. Hopkins' absence and a comfortable lead allowed Coach Thompson plenty of time for reserves, provided extended game time for Stephen Domingo (10 mins., 5 pts, 2 rebs.), Moses Ayegba (7 minutes, 2 pts., 2 rebs.) and Bradley Hayes (five minutes, no points). The game also marked the first appearances for freshmen David Allen and Brandon Bolden; neither scored in the final minute.
The Georgetown half of the box score:

            MIN   2FG   3FG   FT  REB  A  PF  PTS
Starters:                                 
Starks       28   3-6   1-2   2-2   3   4  3   11 
Porter       35   7-14  0-2   0-0   8   2  1   14
Whittington  29   1-4   1-5   0-2   6   3  0    5
Lubick       27   6-7   0-0   1-2   4   3  3   13 
Hopkins       9   0-2   0-0   1-2   0   1  0    1
Reserves:
Smith-Rivera 24   0-0   1-5   4-6   6   1  2    7
Allen         1   0-0   0-0   0-0   0   0  0    0
Bolden        1   0-0   0-0   0-0   0   0  0    0
Bowen         3   1-1   0-1   0-0   2   1  0    2
Caprio        2   0-0   0-0   0-0   0   0  0    0
Domingo      10   1-1   1-3   0-0   2   1  1    5 
Ayegba        7   1-2   0-0   0-0   2   0  2    2
Hayes         5   0-2   0-0   0-0   1   0  1    0
Trawick      19   1-3   0-0   2-2   2   1  1    4
Injured: Adams
Team Rebounds                       5
TOTALS      200 21-42   4-18 10-16 41  17 14   64

Additional coverage follows below:
The story of Otto Porter and his strong family ties are well known to many Georgetown fans, but USA Today gives its national readership a closer look at the Porter family and the family tradition which Otto Jr. has brought to the Hilltop.
Porter played in regular games with his extended family rather than on the AAU circuit.
"It's like war out there," said his father, Otto Sr. "At the end of the day it's a game. But when we're out there playing, it's serious business. That's just the way we've always been…It's a teaching environment, and you get a chance to work on your game while playing with veteran guys who know the game."
"A lot of people make a big issue of the fact that he didn't play AAU ball. I guess I'm coming to the realization now that that's just one of the things you have to do now, according to what everyone else, the 'basketball people' say. My thought process was...I'm going to expose him to more than he's ever going to be exposed to playing on the AAU circuit. Other than the publicity – that was the only thing that Bubba didn't get... always told him, if you're a ballplayer, they'll find you. If you can play, they'll find you."
And they did.
Congratulations to the Georgetown men's soccer team (19-3-2), which advances this Friday to its first ever the NCAA College Cup, soccer's version of the Final Four, with a 3-1 win over San Diego Saturday before 1,927 at North Kehoe Field.
The semifinal doubleheader will be played at 5:00 EST Friday in Hoover, AL versus Maryland (20-1-2), who defeated Louisville in its regional final and appears in its 12th College Cup. The second semifinal features Creighton (17-3-3) vs. Indiana (14-5-3).
Local fans may remember the edict earlier this year when Maryland athletic director Kevin Anderson ended all athletic relations with Georgetown until GU agreed to play Maryland in men's basketball at College Park. That didn't happen, and as a result the schools did not meet in soccer during the season.
Tickets for the semifinal are available at NCAA.com. The game will be broadcast on ESPNU.
And yes, facilities make a difference. Over the summer, Georgetown upgraded the soccer surroundings at North Kehoe Field, adding new temporary seating to 1,400 and helping provide the kind of facility that allowed the Hoyas to be able to host two games within this year's tournament.
In 2004, Creighton built Michael G. Morrison, S.J. Stadium, a $13 million facility in 2004. "Morrison Stadium's seating capacity is 6,000, reads the Creighton athletics web site. "Construction on the stadium was completed in 2004 and the facility includes a state-of-the-art video scoreboard, team souvenir shop, covered chairback seating, luxury suites, enclosed press box, concession stands and banquet area. Since moving into the facility, both programs have enjoyed record-setting attendance numbers, with the men leading the Missouri Valley Conference and ranking in the NCAA top 10 every year since 2003 and the women topping the MVC in attendance each of the past seven seasons."
Three years ago, Georgetown opened the 2009-10 season with a ragged 46-45 win over Temple that Associated Press writer Joseph White called the game "as unwatchable as could be."
And by comparison, that 2009 game was a thriller compared to Georgetown's baffling 37-36 win over Tennessee Friday before a late arriving crowd of 13,656 at Verizon Center. The two teams combined for 34 points at the half and did not score in the final 4:10 of the game, as a run of poor shooting by the Hoyas kept Tennessee close, and an run of poor free throw shooting kept the Volunteers from the upset. In his AP story for this game, White called it "an offensive display of offensive basketball." ESPN went so far as to devote the entire "Not Top 10 List" to highlights from this game.
The Hoyas began the game hitting four of its first six shots and taking a 12-4 lead midway through the half, with Georgetown's defense all but shutting down the Volunteers. With 10:10 to play, Georgetown led by the modest score of 12-6 on 54 percent (6-11) shooting. Over the next ten minutes, the Verizon Center crowd and the ESPN audience were witness to an offensive stalemate unseen in the shot clock era of Georgetown basketball.
To its credit, Tennessee displayed a stout defense, particularly with Josh Richardson's effort against Otto Porter, holding him to four points in each half. But Richardson alone couldn't have done it alone, as the Hoyas did not make a field goal for the final 10:10 of the half.
A missed three by Greg Whittington. Three consecutive missed jumpers from Otto Porter, Greg Whittington, and Mikael Hopkins. A missed layup from Markel Starks. A missed three from Porter. A missed layup from Hopkins, who struggled inside all day.
By the time Starks missed a jumper with 4:42 in the half, the score was only 12-9, as the Volunteers had shot a woeful 1-5 with three turnovers. The Hoyas managed only one field goal attempt for the rest of the half, as a parade to the free throw line managed only four points in seven attempts. Tennessee didn't climb into double digits until the 4:24 mark, and still trailed by five with 2:08 in the first half before scoring on back to back possessions to tie the score, taking the lead with a put-back basket at the buzzer, 18-16. Georgetown ended the half shooting 27 percent overall, 0-3 from three point range.

The Hoyas appeared to have taken Coach Thompson's adjustments to heart, opening with a 11-2 run in the first five minutes to lead by as many as seven, 27-20. Jabril Trawick's three pointer at the 15:00 mark was Georgetown's only three of the game and with it, both teams reverted to the stalemate of the first half. GU pushed the lead to eight, 31-23, at the 12:10 mark, but the Vols outscored the Hoyas 9-0 over the next four minutes to regain the lead, 32-31.

Georgetown got a layup from Porter to regain the momentum, but missed its next three. In a key sequence of the game, Tennessee was sent to the line and missed four consecutive free throws that could have broken the game open. With 5:57 remaining, the Vols' Kenny Hall put UT up, answered by Whittington at the 5:00 mark, 35-34. The teams traded jumpers to keep the count at one with 4:10 to play.

Georgetown's defense forced turnovers on Tennessee's next three possessions but could simply not convert, with two missed layups and a off-centered jumper eliciting groans of concern from the crowd. When Jabril Trawick threw the ball out of bounds with 1:16y to play, Tennessee responded with a bad jumper, leaving the Hoyas in good shape to close the game out, only to see Otto Porter lose the ball out of bounds with 20 seconds left.

Tennessee got two shots off in the last moments of the game, but failed on both attempts.


GU field goals,
last 10 minutes of
first half


GU field goals,
last 10 minutes of
second half


Combined points,
last 4:10 of game


UT free throws,
second half


GU free throws,
second half


GU offensive
rebounds


Last game when
leading GU scorer
scored under 10 pts


"Coming into halftime, I felt we were getting easy shots that we were missing," said coach John Thompson III. "I don't think we needed to make that many adjustments, so then we came out and did the exact same thing in the second half."
Nate Lubick injured his elbow early in the first half and did not play after halftime--his status was unknown after the game.
The game was won on defense, holding Tennessee to 32% shooting and forcing 13 turnovers. Had the Hoyas had any luck converting short shots, GU would have put this away early in the second half. Instead, it's a win that will be lost to the record books in the fewest points scored by a Georgetown team since a 37-36 win over SMU in the first round of the 1984 NCAA tournament.
"As frustrating as an offensive day that I can remember being a part of, we still got stops," Thompson said. "And that's not the worst thing in the world."
The Georgetown half of the box score:

            MIN   2FG   3FG   FT  REB  A  PF  PTS
Starters:                                 
Starks       27   2-5   0-1   0-0   2   2  2    4 
Porter       39   4-10  0-1   0-0   7   4  1    8
Whittington  36   4-9   0-2   0-0   7   1  1    8
Lubick        8   0-0   0-0   0-0   1   2  1    0 
Hopkins      33   2-9   0-0   4-8   6   0  4    8
Reserves:
Smith-Rivera 18   1-2   0-0   0-0   0   0  1    2
Domingo       5   0-0   0-0   0-0   0   0  0    0 
Ayegba        3   0-0   0-0   0-0   0   1  0    0
Hayes         1   0-0   0-0   0-0   0   0  0    0
Trawick      30   2-2   1-3   0-1   4   1  1    7
DNP: Allen, Bolden, Bowen, Caprio,  
Injured: Adams
Team Rebounds                       2
TOTALS      200 15-37   1-7   4-9  29  11 11   37

Additional coverage follows below:
---
HoyaSaxa.com: The One-Stop Web Site For Hoya Basketball™
An independent web site not affiliated with Georgetown University. All rights reserved.